You are currently browsing the tag archive for the 'wildflowers of Scotland' tag.
No this isn't an advertisement for essential oils – but when I received an email from Young Living about Goldenrod, I couldn't help but make some comparisons with my book Golden Rod. Their article opened with, "A bag of gold bullion or a bottle of Goldenrod? You'd think the decision would be an easy one, but fans of the oil would disagree…"  Words like, "
priceless, hands-down one of our most popular oils, worth the wait, loved by men and women alike for its grassy, bittersweet aroma and long list of benefits, from elevating your skin care routine to amping up a romantic vibe," made me think of my Golden Rod.
From a 5 star review of Golden Rod on Amazon: 
As a fan of Outlander and, well, men in kilts in general, I was eager to crack the virtual spine of this Scotland based contemporary romance. Our heroine, Katelyn O'Neal, has found herself by way of inheritance, the proud owner of a real life Scottish castle. Perfect, since she needs a ton of money and fast, in order to pay for an experimental cancer treatment that will save her twelve-year-old niece's life. All she has to do is fly to Scotland, make a few arrangements, and be on her way. Not even the charms of Golden-Haired, Most Fair, Prince Rod of Lachlan, or Rod MacKenzie as he's known in social circles, will sway her from her goals.
However, a pair of ghosts are hanging around, having been cursed to haunt the halls of Lachlan until a first born MacKenzie male inherits the castle. After 500 years, they're tired of waiting, and with the sale of the castle pending, they must use drastic measures to see that their curse be broken.
This story was full of well-developed characters and spectral shenanigans that had me cheering and boo-hissing at all the appropriate moments. One of those rare books that kept me up way past my bed time. I'm looking forward to reading more from this author.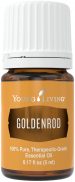 What is Goldenrod essential oil used for? Excerpts from the following list from YL draws more parallels  between their Goldenrod and my Golden Rod to mind:
1. Brighten your outlook. Add some positivity to your day with the scent of Goldenrod to sweeten extra-special moments.
2. Deepen your massage. Soak in the relaxing scent and reconnect with your partner by giving each other a massage for a romantic night in.
3. Make bedtime the best time. Enjoy its earthy aroma as you drift off to dreamland.
4. Go for the bold. Use Goldenrod to create a pleasant, masculine scent for men for a calming personal fragrance.
5. Make a great first impression. Nervous about meeting someone new? Let the relaxing aroma help calm those first-date jitters. 
6. Drench your skin in hydration. Add a drop to your moisturizer for smoother, irresistibly touchable skin.
7. Cuddle up with your true love. Create a cozy night in with the unifying blend of Goldenrod. Planning a romantic getaway? Combine your natural charm with Goldenrod for a truly memorable weekend.
If I haven't convinced you yet, here's another review of Golden Rod:
Wonderful! I thoroughly enjoyed this novel by Sherrie Hansen. I found it to be a sweet comical romance. What started out as an untimely and unwanted involvement between strangers blossomed into an unforgettable journey and romance… I loved the way that Scottish lore and legend was crafted into this modern day romance. I loved the way that the history of the Scots and the culture from Scotland was crafted into this story.
Hansen did a fantastic job making the words fly off the page. The world she created came to life and felt real, as if I was really there with the characters, seeing, feeling, and wanting everything they did. Bravo!
I think this reviewer captured the essence of Golden Rod, too:
A Legend Relived through Modern Day Romance:  A wonderful retelling of a Scottish legend through romance. The storytelling is beautiful and describes the beauty of Scotland in a way that will make you contemplate checking tickets for visiting the enchanting country. Through the story of Katelyn and Rod the author shows the fears and struggles we face daily. Katelyn as a character shows our aspect in the modern world, detached, cold and self centered at times. Preoccupied with her own problems she is not aware of anything around her or how her actions affect others. On the other hand through Rod we see the honorable, compassionate side of us. His love for Scotland is something that brings the realistic aspect in the story. His pride in his heritage and the land he calls home is something we can easily understand and with every right. His personality and love melt the walls Katelyn has built around her heart. I was truly impressed with the story and I'm looking forward to reading the rest of the books from this author.
And one more of my favorites – a review from the UK:
Heavenly Tale – This was such an enjoyable book to read as my fascination and love of Scotland is parallel to the authors. I am intrigued by castles and the folklore concerning ghosts, and this story had everything – passion, romance, and history – entwined with the beauty of the atmospheric lochs and mountains. The ghosts were particularly likeable – in every sense possible; be prepared for a little flutter. Brilliantly paced, expertly written.
With that, I'll leave you to draw your own conclusions – is Golden Rod right for you? If you haven't already read it, I hope you'll give it a try and see if you enjoy the essence of Golden Rod. If you have, I'd love to hear your thoughts!
When a poor choice and some wild fluctuations in the space time continuum leave school teacher Violet Johansen stranded in the car park of Eilean Donan Castle in Scotland, Violet wonders if she'll ever find her way back to her comfort zone. She has two choices – to trust a piper who looks exactly like someone she dated a decade ago, or a band of nefarious pirates.   
Pirates.
Pipers.
People – mistakes – from the past that rise up to haunt you at exactly the worst possible moment…
A castle that's been ravaged and rebuilt…
Passion.
Paintings.
People from the past who threaten to tie you down for all eternity.
Can Violet and Nathan's fragile new friendship survive to see love reborn? Or is the past so set in stone that nothing can change it?
Shy Violet.  Is it Violet's turn to bloom, or will the past crush her hopes for the future? Will the promises Nathan made prevent him from enjoying the present he's found in Violet?
"A cool blend of mystery, humor, suspense and romance, and wholly believable, delightfully flawed characters is genuinely enticing in this wild romp through the Scottish countryside with Sherrie Hansen.  Evocative, sensitive, sensible and sweet, these are tales with plenty of action and adventure, making a truly lovely read."  Author Sheila Deeth, on the Wildflowers of Scotland novels
SHY VIOLET by Sherrie Hansen – coming May 1 from Second Wind Publishing
Sherrie Hansen's Bio:
Twenty-three years ago, Sherrie rescued a dilapidated Victorian house in northern Iowa from the bulldozer's grips and turned it into a bed and breakfast and tea house, the Blue Belle Inn.  Sherrie has also lived in Colorado Springs, CO, Augsburg, Germany, Wheaton, IL, and Bar Harbor, Maine. She grew up on a farm in southern Minnesota. After 12 years of writing romance novels, Sherrie met and married her real-life hero, Mark Decker, a pastor. They now live in 2 different houses, 85 miles apart, and Sherrie writes on the run whenever she has a spare minute. Sherrie enjoys playing the piano, photography, traveling, and going on weekly adventures with her nieces and nephew. "Shy Violet" is Sherrie's eighth book to be published by Second Wind Publishing.
Links:
http://www.facebook.com/SherrieHansenAuthor
https://sherriehansen.wordpress.com/
http://www.BlueBelleInn.com or http://www.BlueBelleBooks.com
https://twitter.com/SherrieHansen
http://www.goodreads.com/author/show/2870454.Sherrie_Hansen
https://www.pinterest.com/sherriebluebell/
Books Titles: Night and Day, Maple Valley Trilogy – Stormy Weather, Water Lily, and Merry Go Round, Love Notes, Wildflowers of Scotland novels – Thistle Down (a prequel novella), Wild Rose, Blue Belle, and Shy Violet
SHY VIOLET BY SHERRIE HANSEN… Coming May 1, 2015…
Violet looked at Nathan, asleep in his cold, sterile, hospital bed, and something inside her just snapped. What was she doing? Fighting in front of Nathan at a time like this, when venom and vinegar were the absolute last things on her mind and love was all that mattered.
She shrunk back against the wall. Because violets are beautiful, but they have fragile, thin-skinned petals and short little stems and they can only survive in sheltered, shady spots in the forest. They're not made to weather fierce storms or a powerful sun. And if someone steps on them and tramples then into the ground, that's probably where they'll stay – crushed for all eternity.
"Violet?" Lyndsie knew her well enough to know that something was wrong.
Violet opened her mouth and tried to find the words to express what she was feeling. And failed. Who did she think she was, anyway? Sure, she could stand up to Stacy for – what had it been? Like two minutes? The mouse looking the lion in the eye for a nanosecond before scampering away, fearful for its life.
Nathan had known Stacy for years. He'd loved her enough to ask her to marry him. He may have realized it was a mistake to proceed with the marriage, but they had a history – a long, deep, trusting, evolving relationship. He and Violet had shared a couple of weeks of wild lovemaking and a handful of heart-to-hearts. That was it.
Nathan might think he loved her – who really knew? They certainly didn't have the all-important communication thing down or he would have known she hadn't been kidnapped and they wouldn't be in the mess they were in. Even if Nathan did love her on some level, he didn't trust her. Lyndsie had told her Nathan believed she had taken a $10,000 bribe from his father and left drugs in his apartment, then tipped off the police to get him in trouble.
There was no way she could go head to head with Stacy over Nathan. She didn't have the courage. She didn't have the resolve. She didn't have the guts. She didn't have the right.
Stacy gave her a look – a mere look – and she could feel what little bravado she had left withering like a shade-loving wildflower in a hot desert sun. Impossible.
From Shy Violet by Sherrie Hansen
I've been watching back to back episodes of the TV show Chopped on the Food Network this week because I'm working on a murder mystery called "A Taste of Murder:  The Galloping Gourmet Gets the Trots". The simple, three act murder mysteries I write for the Blue Belle Inn B&B's acting troupe are fun, mostly silly, crowd pleasers. They always end where they're supposed to, because someone invariably confesses at the end of Round 3. As simple a format as they are, I've learned several things while researching and working on them.
On the show, Chopped, the contestants have 20 – 30 minutes to prepare an appetizer, main course, or dessert from the often odd and usually unrelated mystery ingredients in their baskets. When the countdown ends, they immediately put their hands in the air, step back from their work stations, and hope that what's on their plate is good enough to avoid being axed on the chopping block. No matter that your delicious milk chocolate sauce – the one you infused with melted gummy bears because that's what was in the basket – is still on the stove, momentarily forgotten, never to be drizzled over your hastily made Chantilly crepes. When the time is up, there's no chance to fuss, make corrections, re-plate, or change your mind about this or that. You're done. Finished. The end has come.
Sometimes, I wish knowing where to end my novel was as structured and simple as that. Hands in the air. Step back from your laptop. The end.
This week I heard back from one of my beta readers, who told me she didn't like the ending of my soon-to-be-released Wildflowers of Scotland novel, Shy Violet. What she said – and I think she's absolutely right – is that I had a tight strand of a story with characters and drama masterfully braided in to a focused story line when all of a sudden, about 50 pages from the end, the story started to fray apart.
What I'd done was to introduce William, who's going to be the hero of the next book in the series – Sweet William, and pull back the characters from the previous book in the series, Blue Belle, so I could use their wedding as a backdrop for the last few scenes of Shy Violet. In doing so, I stole the thunder from Violet and Nathan's story and left Shy Violet with a weak, disconnected ending instead of a strong finish.
Although I didn't realize it consciously at the time, I wasn't sure how Shy Violet should end. Although I love my characters and the premise of the book, I was ready to be done with the story. I'd been working on it for over a year, and I'd already moved on emotionally. As I read back over the ending, I could see that I was scrambling to make my word count by adding scenes that never should have been part of the story.
So, when is it time to say, The End? How do you know when your story is finished? What makes a good ending? Most of us are taught to focus on the beginning of our story – the magical first scene, first page, first line – the all-important hook. After all, if you don't get the beginning right, it won't matter how the book ends because no one will read it. But there's a lot to be said for a satisfying ending, too. In the restaurant business, it's commonly held that customers base their tip on how full their waiter keeps their coffee cups at the end of the meal. Sweet, well-timed endings are what make a customer – reader – leave satisfied and eager to come back. What makes a great ending?
A good ending ties up all your loose ends quickly and concisely. No need to endlessly linger – if you haven't made your case for inclusion of the thread by now, it probably shouldn't be there in the first place.
No need to micromanage every little detail. Find a good balance and wrap things up.
A satisfying ending may include a teaser or leave you wondering what happened next. Embrace the mystery and let your reader fill in a few of the blanks. Imaginative readers like feeling that they're part of the story.
Think hard and long about introducing new characters or themes toward the end of a book. If you're writing a series, it's tempting to move things in the direction you're planning to go in your next book, but it may not serve the story and can be a serious distraction.
Don't be too predictable. A wonderful ending may include a surprise, or a twist that no one saw coming. Now is not the time to throw in something way out of the blue, but being startled or caught off guard can be intriguing if it builds naturally from a multi-dimensional, sometimes unpredictable character.
Endings can be happy, sad, maudlin, or inconclusive. They can leave you hanging or satisfy you on a deeply personal level. Asking yourself what kind of ending fits the theme and characters in your book will steer you in the right direction.
Let your characters tell you how and when the book should end. If your characters aren't talking to you, maybe they're not ready to end the book. Give them a little time, let things settle and sink in, and they'll eventually tell you where they want to go. I often need a little time to absorb things and make sense of something that's happened, especially after a very climactic scene or event. Your characters do, too.
Focus on the things that really matter. A good ending reflects the crux of your book, the theme or common thread that runs throughout the entire book. Ask yourself what the book is really about. The answer may surprise you, and it may be different than whatever the book was supposed to be about. That's what your ending should be about, too. Addressing the things your readers have come to care about while reading the book creates a comforting consistency.
If you're still stuck, go back and read the first two scenes of your book. Think of the beginning and ending as bookends to the story in between. The ending should be a mirror image of the start.
If you're still not sure you ended the book at the right time or in the right place, let it sit for at least a few days. Read the last few scenes of the book out loud. If the end of your book evokes emotions in you, and gives you a deeper understanding of your self and the world you live in, then raise your hands in the air and step back from the table. Your book is done.
If you're dissatisfied or bored, or left feeling cold or confused, then be glad that as writers, no one holds a stopwatch over our heads and demands that we deliver a hot, perfectly-plated, artistic-looking, delicious-tasting product in 20 minutes or less. Be glad you're a writer and not a chef.
Endings are complex, and they're just as important as beginnings, because once you have a reader, you want to keep them, move them on to your next book, and the next, and the next. That's what a good ending does. Questions asked demand answers. The world is full of symmetry, and I believe that finding it in the pages of your book will eventually give you the perfect ending.
You'll be happy to hear that I've re-written the ending of Shy Violet twice now, and from all indications, I finally got it right. Hopefully, in a few weeks, you can read it and be the judge!
Happy endings, whether you like things nice and tidy and tied with a ribbon, or helter-skelter, with a few loose ends left dangling…
Last week, as I sat and listened to a bestselling author speak about writing murder mysteries, someone in the audience asked, "Why do you write about murder?" The author explained that she wrote what she knew – she had worked as a journalist investigating murders for years before writing novels. A good answer, I thought. But the person in the audience persisted, and once more asked, "But of all the things in the world you could write about, why would you want to focus on murders?" To which the author answered, "So, what should I write about? Cute, little flowers?" While she went on to explain that she had tried to write a romance once, and within three chapters, someone ended up dead, I sat there feeling embarrassed because my last three books are indeed about cute little flowers.
I got the idea to write my Wildflowers of Scotland novels when we were in Scotland. We flew into Glasgow, and as we headed north towards Luss and Loch Lomond, there were still a few bluebells here and there. The rhododendrons were in full bloom and, as we worked our way from north to south, we saw heather in the highlands, roses in hundreds of hues, purple thistles, yellow gorsk, and a profusion of other wildflowers. When I got home and started writing, Thistle Down was born, then Wild Rose, and Blue Belle. I'm currently working on Shy Violet and, if I decide to keep going, Sweet William will be next.
But the question still is – and it is a very valid question – "Out of all the things in the world I could write about / focus on, why cute little flowers?" It's been clear from the beginning that if I wrote grisly, gory murder stories, I would sell more books. It's what people seem to want to read. Townspeople who are generally unimpressed with my books were clamoring to buy hers. Friends of mine who are absolutely wonderful writers concoct excellent murder mysteries / crime / detective novels. So – why can't I bow to public demand, get with the program, and write chilling thrillers?
Here's my answer:
1. A friend of mine once said that he never wanted to be accused of being normal. Call it stubborn, call it being creative, unique, or just plain different, but I've always been one to do my own thing. I generally don't care about popular fashion trends, or that no one else I know wears hats, or what other restaurants have on their menus (I own a B&B and Tea House). I've always followed my instincts, be they right or wrong, and at 57, I'm guessing there's no changing me now.
2. I also write what I know – and love, and care about. Maybe it's because I come from a long line of worrywarts, or as we call it today, people who suffer from anxiety, but I try very hard to think about good things. Like many writers, my method is to start with a premise and then ask the question, "What if?" until my mind starts to swirl and a story comes to life. The thing is, I'm always thinking "What if?". Even when I'm not working on a story, I'm prone to thinking about and imagining the worst thing that could happen. If I listened to those voices – dwelled on them – thought about them long enough to write a whole book based on the worst possible scenarios I imagine – well, lets' just say I have no desire to go there.
3. I memorized this verse when I was a kid, and it evidently stuck. "Philippians 4:8 –  Finally, brothers and sisters, whatever is true, whatever is noble, whatever is right, whatever is pure, whatever is lovely, whatever is admirable—if anything is excellent or praiseworthy—think about such things." I in no way wish to imply that people who write about evil people or events are disobeying the Bible. I'm just saying that if I didn't at least try to do as this verse says, my thoughts and fears would no doubt consume me.
4. I have an artist's eye. Follow me on Facebook and look at my photos if you don't believe me. I know the world is filled with horrific images and all kinds of hate and evil and gore. But when I look at the world, I honestly see cute little flowers and beautiful sunsets and rainbows after storms. I also see symbolism behind every falling leaf in autumn and every snowflake in winter and everything – everything – around me.
Of course, my books are about a lot more than cute, little flowers. In Wild Rose and Blue Belle, there are kidnappings, murders, and blackmail. In Shy Violet, there are pirates and whiskey smugglers, lying, abusive boyfriends and all kinds of bad things. But there are also wildflowers. Tiny, unique, beautiful little flowers.
I've repeatedly been told that people love my books because my characters are so honest. In Blue Belle, my second Wildflowers of Scotland novel, honesty – and the periodic lack of it – is one of the main themes of the book. This week, after several more instances of being told that my characters are so real  that people can't wait to find out what happens to them, and that they love my writing because it's so honest – it's gotten me wondering, how truthful am I really, as a person and a writer?
It's much easier for me to be honest under the guise of fiction. People who read my books might wonder if some of the humiliating experiences that are detailed in my books really have happened to me. They may think – did someone really say that to her, hurt her that deeply, take advantage of her, steal from her, or make a fool of her the way they did in the book?   Although all but a few close friends will never know which parts of my books are somewhat factual and which are complete figments of my imagination, if I'm honest, I have to admit that most of the horrid things that happen to my characters have very likely happened to me in one form or another. (Ah, the sweet anonymity of the qualifier…)
I, and most people I know, come from a stoical, northern European tradition of keeping your troubles to yourself, and not embarrassing yourself or your family by revealing too much information about personal matters. No one I know likes having TOO MUCH INFORMATION, except perhaps my husband, who has sometimes wished that people would feel free to be more honest with him (he's a pastor). The rest of us tend to stay as far removed from the dreaded disease of opening up to people as is humanly possible.
It evidently takes a few years before these secretive behaviors are learned, because for years, my family has teased that we should never say anything in front of my young nieces and nephews that you don't want repeated. I'd love to reveal a few choice tidbits of information that my nieces have told me over the years, but I won't. I don't want to embarrass them or the people they were talking about.
We learn from our teen years on that it's better not to talk about certain things. We learn to camouflage our emotions and keep secrets and pretend that we're not really being abused or feeling anxious or depressed or angry or a host of other undesirable emotions. We train ourselves to discount our feelings. It doesn't matter. I'm fine. No – really – it's okay. We try so hard to convince ourselves that eventually, most of us do. As we sink deeper and deeper into denial, those around us are often all too eager to buy into the lies. Which of us really wants to deal with a friend who's having a rough time? Most of us prefer to accept the pretense that everything really is fine, even if we know deep inside that it's not.
In these days of political correctness, we're taught to keep our thoughts about our faith, our political beliefs, and our opinions about anything that really matters, to ourselves. And we all know what happens when the truth comes out and the press gets a hold of it – and it's rarely pretty. So we cower. We back away from the truth and hide behind walls. We truly believe the lie that if people knew what we were really like, they wouldn't like us. And because most of us are so unaccustomed to dealing with open, honest people, we – sadly – tend to back away from people when they do tell us more than we like to know.
We often hear the phrase, children are refreshingly honest. If that's a compliment, and I think most often it is, then I'm thrilled to be told that the characters in my books are wonderfully appealing because they're open, honest and real. As I "grow up" as a writer, I promise you I'll do my best to keep that "childlike" quality in my writing. And for those of you who know me personally, I'll attempt to be as candid as I can in my real life, too. People love my characters because they're flawed, human, and vulnerable. Just think how much closer our relationships, marriages and families could be if we were all a little more honest with one another. We're promised, after all, that "The truth will set you free. " (John 8:32)
Austin, Minnesota is the town where I grew up and graduated from high school. Most of my family still lives there, and I visit at least once a week. I'm thrilled and proud that my hometown is supporting local artists, authors and musicians at their annual Artworks Festival. I'll be speaking and reading from my new release, Blue Belle, at 3 p.m. on Saturday, August 23rd. I hope you'll join me, and check out the times that your favorite authors and musicians will be appearing as well as checking out the talented artists whose work will be on display. Hope to see you there! I'll be the one with the cute hat on.
Okay – I'll be honest. Part of the reason I write contemporary romantic suspense as opposed to historical is that I don't have the time or inclination to do research. It's not that I don't enjoy history or investigating the past. And it's not that I'm lazy – really. It's simply that I'm already stretched so thin that I simply don't have time. I own and operate a B&B and Tea House called the Blue Belle Inn, and I'm a pastor's wife in a different town, 85 miles away. I play the piano at church with a traveling band of musicians, and I'm very involved in the lives of my family. I write on the run whenever I have a spare second, often with my laptop propped on the door of the glove compartment while my husband drives us between our two homes. If I had to stop and do extensive research on a specific time period or worry about maintaining historical accuracy, I'm convinced I'd never finish anything.
To keep things simple, I try to write about locations I've been to or lived in, and occupations or fields I've worked in or been trained to do. I'm less likely to make silly mistakes that way. I've had characters who are Realtors (I'm licensed in the state of Colorado), interior designers, quilters, farmers, pastors, home renovators, and business owners in Minnesota, Iowa, California and Colorado – all things and places that are intimately familiar to me. No matter – it still takes an immense amount of time to research and validate facts, even for familiar scenarios.
Part of the problem is that my characters somehow seem to acquire minds of their own. Tommy Love giving up on building his dream house in northern Minnesota and buying a beachfront property in central California in "Love Notes" is one good example of a character who went traipsing off in different directions, pulling "my" story and stretching "my" plotline to include things that I never would have thought of on my own, and attempting actions and activities I'd never dare try. What could I do? I was invariably forced to follow his lead, searching for those tidbits of knowledge I was lacking to keep the story grounded and authentic.
When I started writing "Blue Belle", I had never been to Tobermory or the Isle of Mull, or even Scotland. When I finally set foot on the island, I had a strange sense of déjà vu because I was already so well acquainted with the place via the internet. One night, while I was sitting on a bench near the harbor, a woman walked by that looked exactly like I'd always envisioned Isabelle, my main character. It was eerie! I also had to change an entire scene that had Isabelle blithely scooting around Mull on her bicycle when I discovered how hilly the island is. It's a very steep climb from the harbor street to the top of the hill where our B&B was!
Scoping out a location is only the beginning. I spent almost an entire day researching European chocolates for Blue Belle. When I was in Mull, I even had to go to Tobermory Chocolates to taste their famous Rose and Violet Cream Chocolates. You know, so I could describe them accurately. I had to take tea at the Willow Tea Room in Glasgow, try Victoria Sponge with buttercream and berries and Mini-Battenbergs layered with almond paste, moist cake, and apricot jam, and sample Sticky Toffee Pudding with Caramel Whiskey Sauce.  Not that it stops with the sweets. I had to taste pub grub – things like Cumberland Mash and Cottage Pie with  Thatched Roof  and Smoked Haddock Pie with Mashed Potatoes – at locations all over Scotland. And, I had to stay at several B&B's so I could experience an authentic Scottish breakfast. Yes, we authors are forced to spend our time laboring over many such unsavory tasks. I spent a huge amount of time looking for Scottish slang, phrases, and speech idioms that would define and give depth and reality to my characters and their conversations, yet be understandable to the average American reader. I researched castles and keeps, Cromwell's practice of slighting, and the art of building with stones in both Scotland and Oconomowoc, Wisconsin.
Isabelle is a journalist, so part of my research involved investigating the facts behind each of the stories she was working on in the book, from Mad Cow and hoof and mouth to puffins and vultures, a Celtic bathing pool, and the centuries-old gold some people believe is still buried on a sunken Spanish galleon in Tobermory Bay.
The thing I like least about research is that I've already learned some things the hard way, which, sadly, means I already know everything I need to know about them without doing a single Google search. The thing I love most about researching is that once you start looking for specific answers to certain questions, you discover amazing things that lead you in completely new directions that then become fodder for your plot, and on and on in an explosive chain reaction of knowledge. It's fascinating!
One of the things I've always loved about reading books is the new worlds that are opened up to me as I see a place or situation through the eyes of each character. Being an author has stretched me even more. Research can seem like a necessary evil at times, and a thrill at others. But no matter how hectic my schedule is or how bad my attitude about having to jump out of the story and take the time to chase down facts and figures, research is a great opportunity to learn more things, broaden your perspective, and see the world in a different light.
Here it is! The answers you've been waiting for to the questions you didn't know existed!
1) What am I working on? Now that Blue Belle has been released, I've been working on Shy Violet again. Shy Violet is my third Wildflowers of Scotland novel, and it takes place at Eilean Donan Castle and in Dorney, Scotland, on Loch Alsh, just before you get to the Isle of Skye. I started Shy Violet in November and am a little over half done – and loving it!
2) How does my work differ from others of its genre? There are two things that set my work apart from others in the romance or romantic suspense genre. One, my characters range in age from their early to late thirties to their mid-forties. My stories are second-chance at romance stories about characters who have been there, done that, maybe even been burned or badly hurt, and are brave enough to give love another go. Two, my stories contain a unique, real-life blend of typical Midwestern culture, family, and faith, and real, vulnerable, not perfect, messy people – which includes sometimes steamy, sexy scenes. My stories are character based, and since each character is different, so are their stories. As a result, my books are hard to classify, tend to mix elements of different sub-genres, and cross lines that some might not feel comfortable with (on both sides of the spectrum).
3) Why do I write what I do?  I've always been a bit of a rebel, and shall we say, unique? I write what's in my heart, and that includes characters who are as one of a kind as I am, stubborn but not afraid to change, and complex. My books have been called the thinking woman's romance. I also write what I know, and tend to include elements like old-fashioned bicycles, a favorite quilt, Victorian or medieval architecture, ethnic foods, bed and breakfasts, or other funky things, places or props to make my stories fun. I am NOT my characters, but the way I think and feel about things is very much reflected in their responses and choices and reactions to the obstacles and dilemmas they encounter. When people say they don't like my books, or the kind of books I write, I often think, then you really don't like me.
4) How does my writing process work?  I live in 2 different houses, 85 miles apart, and write on the run whenever I have a spare minute. If my husband is driving, I usually have my laptop propped on the door of the glove compartment, working on a scene. I don't get much writing done in the summer, when my B&B is at its busiest, so I try to make up for it in the wintertime. Once I have my rough draft done, I do extensive editing and smoothing out, including writing my transition scenes, and at least one session of reading the book out loud.
Thanks to Dellani Oakes for nominating me! Please check out her blog and her answers to these questions at www.dellanioakes.wordpress.com.
I'm tagging two Iowa authors to carry on the blog tour:
Stephen L. Brayton, who I met at a booksigning last Sunday at La Vida Loca Winery in Indianola -www.stephenbrayton.com, www.stephenbrayton.wordpress.com, 
www.braytonsbookbuzz.wordpress.com
Stephen L. Brayton owns and operates Brayton's Black Belt Academy in Oskaloosa, Iowa. He is a Fifth Degree Black Belt and certified instructor in The American Taekwondo Association.
He began writing as a child and has written numerous short stories both horror and mystery. His first novel, Night Shadows (Feb. 2011), concerns a Des Moines homicide investigator teaming up with a federal agent to battle creatures from another dimension. His second book, Beta (Oct. 2011) was the debut of Mallory Petersen and her search for a kidnapped girl. In August 2012, the second Mallory Petersen book, Alpha, was published. This time she investigates the murder of her boyfriend.
Jordyn's Bio:  Once living under the guise of a passive, quiet, school librarian, books and kids were the passions which kept her mind fresh. One day she decided to spread her wings and live the dream of her heart. Sitting in front of her computer, her fingers bring to life the voices in her head. But it is when the night muses visit Jordyn, her spirit rises up to wrap around the stories that float in her dreams. Land locked in the mid-west she envisions days on a white sandy beach with a laptop to write all her tales. Crossing many genres she spins chronicles of romance, paranormal and fantasy, for they are stories worth telling, even at the risk of revealing true feelings. 
http://jordynmeryl.wordpress.com/