You are currently browsing the tag archive for the 'reviews' tag.
No this isn't an advertisement for essential oils – but when I received an email from Young Living about Goldenrod, I couldn't help but make some comparisons with my book Golden Rod. Their article opened with, "A bag of gold bullion or a bottle of Goldenrod? You'd think the decision would be an easy one, but fans of the oil would disagree…"  Words like, "
priceless, hands-down one of our most popular oils, worth the wait, loved by men and women alike for its grassy, bittersweet aroma and long list of benefits, from elevating your skin care routine to amping up a romantic vibe," made me think of my Golden Rod.
From a 5 star review of Golden Rod on Amazon: 
As a fan of Outlander and, well, men in kilts in general, I was eager to crack the virtual spine of this Scotland based contemporary romance. Our heroine, Katelyn O'Neal, has found herself by way of inheritance, the proud owner of a real life Scottish castle. Perfect, since she needs a ton of money and fast, in order to pay for an experimental cancer treatment that will save her twelve-year-old niece's life. All she has to do is fly to Scotland, make a few arrangements, and be on her way. Not even the charms of Golden-Haired, Most Fair, Prince Rod of Lachlan, or Rod MacKenzie as he's known in social circles, will sway her from her goals.
However, a pair of ghosts are hanging around, having been cursed to haunt the halls of Lachlan until a first born MacKenzie male inherits the castle. After 500 years, they're tired of waiting, and with the sale of the castle pending, they must use drastic measures to see that their curse be broken.
This story was full of well-developed characters and spectral shenanigans that had me cheering and boo-hissing at all the appropriate moments. One of those rare books that kept me up way past my bed time. I'm looking forward to reading more from this author.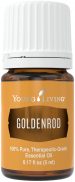 What is Goldenrod essential oil used for? Excerpts from the following list from YL draws more parallels  between their Goldenrod and my Golden Rod to mind:
1. Brighten your outlook. Add some positivity to your day with the scent of Goldenrod to sweeten extra-special moments.
2. Deepen your massage. Soak in the relaxing scent and reconnect with your partner by giving each other a massage for a romantic night in.
3. Make bedtime the best time. Enjoy its earthy aroma as you drift off to dreamland.
4. Go for the bold. Use Goldenrod to create a pleasant, masculine scent for men for a calming personal fragrance.
5. Make a great first impression. Nervous about meeting someone new? Let the relaxing aroma help calm those first-date jitters. 
6. Drench your skin in hydration. Add a drop to your moisturizer for smoother, irresistibly touchable skin.
7. Cuddle up with your true love. Create a cozy night in with the unifying blend of Goldenrod. Planning a romantic getaway? Combine your natural charm with Goldenrod for a truly memorable weekend.
If I haven't convinced you yet, here's another review of Golden Rod:
Wonderful! I thoroughly enjoyed this novel by Sherrie Hansen. I found it to be a sweet comical romance. What started out as an untimely and unwanted involvement between strangers blossomed into an unforgettable journey and romance… I loved the way that Scottish lore and legend was crafted into this modern day romance. I loved the way that the history of the Scots and the culture from Scotland was crafted into this story.
Hansen did a fantastic job making the words fly off the page. The world she created came to life and felt real, as if I was really there with the characters, seeing, feeling, and wanting everything they did. Bravo!
I think this reviewer captured the essence of Golden Rod, too:
A Legend Relived through Modern Day Romance:  A wonderful retelling of a Scottish legend through romance. The storytelling is beautiful and describes the beauty of Scotland in a way that will make you contemplate checking tickets for visiting the enchanting country. Through the story of Katelyn and Rod the author shows the fears and struggles we face daily. Katelyn as a character shows our aspect in the modern world, detached, cold and self centered at times. Preoccupied with her own problems she is not aware of anything around her or how her actions affect others. On the other hand through Rod we see the honorable, compassionate side of us. His love for Scotland is something that brings the realistic aspect in the story. His pride in his heritage and the land he calls home is something we can easily understand and with every right. His personality and love melt the walls Katelyn has built around her heart. I was truly impressed with the story and I'm looking forward to reading the rest of the books from this author.
And one more of my favorites – a review from the UK:
Heavenly Tale – This was such an enjoyable book to read as my fascination and love of Scotland is parallel to the authors. I am intrigued by castles and the folklore concerning ghosts, and this story had everything – passion, romance, and history – entwined with the beauty of the atmospheric lochs and mountains. The ghosts were particularly likeable – in every sense possible; be prepared for a little flutter. Brilliantly paced, expertly written.
With that, I'll leave you to draw your own conclusions – is Golden Rod right for you? If you haven't already read it, I hope you'll give it a try and see if you enjoy the essence of Golden Rod. If you have, I'd love to hear your thoughts!
I grew up in a home where we were taught "If you can't find something nice to say about something, don't say anything at all." This bit of wisdom seemed like good advice then – and still does now.
But somewhere along the way, the world changed, and now, everybody's a critic. I see it on shows like Chopped, The Taste, The Voice, and Dancing with the Stars, where judges nitpick over tiny imperfections, and criticize and compare what the contestants bring to the table ad nauseam.
.
I grew up in a world where there were defined winners, but doing your best, and working as hard as you could to be the best you could be, was both admirable and praiseworthy.
.
The generation that followed mine strayed in the direction of skipping rankings altogether, of not giving any grades beyond a satisfactory rating, and passing out participation ribbons instead of purple, blue, red and white. They didn't want to hurt anyone's feelings or damage anyone's fragile self-esteem. Now, we've gone so far in the opposite direction – we're so hyper competitive – that it's scary. Nothing's ever good enough. It's all about being the best, better than, a notch above, a perfect 10, a fraction of a point ahead of the other competitors.
Even more frightening is the fact that we routinely ditch the opinions of qualified judges, food critics, teachers and editors along with their years of experience and training, instead opting to give the vote to ordinary Joes. We vote to save the contender we like the best with live tweets and text messages and special apps. We, the people, hold the power.
Consumers make decisions on which books to read, which hotel, B&B, or restaurants to stay at or eat at based on what unaccredited strangers post on Yelp, Trip Advisor, or Angie's List. We review people's performance on eBay and Airbnb. We rate products and services on Amazon.com and e-pinions and hundreds of other websites. Some of these posts are honest, genuine, thoughtfully written assessments. But there are also overly harsh reviews from drama queens, people trying to get hits, whiners, complainers, obnoxious know-it-alls and yes, liars. And we listen to them, take their advice to heart, and chart our course of action based on what they say.
These days, every time I walk into my kitchen at the B&B and tea house I own and operate, I feel like I'm on an episode of Chopped… the stress, the clock ticking down, the feeling that if I don't deliver a product that's not only beyond reproach, but exemplary – in record time – I will be chopped from the list of restaurants my clients frequent and recommend. Is it just my imagination, or are my customers picking apart every detail of my culinary efforts, second guessing my choice of cheeses, the seasoning I used on my chicken breasts, and the amount of Parmesan I sprinkle on top of my casseroles? Did one flavor overpower another? Did I plate too hurriedly? Did I commit any one of a multitude of culinary sins when I envisioned and created my menu?
I've had far more complimentary reviews than bad when it comes to my B&B and tea house, and my books, but every negative comment is like a dagger in my heart, sometimes because the remarks are unfair, untrue, and unjust, and other times, sadly, because what my critics have written is a valid criticism.
Our expectations are so high, our standards so close to perfection that it's almost impossible to please. I've read a few early works of my favorite, big-name authors and found in many cases that the writing is amateurish, lacking in basic writing skills, and what would generally be considered sub-standard in today's world. To be frank, there is no way these books would ever be published in today's hyper-critical world. And what a tragedy that would have been, to shoot them down before they had a chance to grow and bloom and shine.
Is there a place in today's world for a thin-skinned, people-pleasing author/restaurateur/ innkeeper who craves positive attention and compliments? My husband gets a yearly performance review – I get one every time someone opens one of my books or eats at my tea house or stays at my B&B. And the thing is, there's not a pillow or mattress or book on earth that will please everyone, because some like it hot, and some like it cold, or firm or soft, or spicy or mild, or big or small. And no matter how wonderful our stories are, not everyone is going to resonate with our characters or get into our plot line.
I was told early on that you had to have thick skin to survive as an author. I was also told that it takes 10 positive comments to make up for one negative. I get hundreds of verbal compliments and affirmations every week, in person, and on social media. Why is it that the people with complaints never seem to speak to you directly, or give you a chance to correct the problem, but instead, chose to publicly humiliate and damage your reputation online? And why is it that those dear people who pay me compliments tend to do it privately instead of shouting it from the rooftops, as I would selfishly prefer?
What I'd like to suggest is that we all learn to look on the bright side. No situation – no traveling, dining or reading experience – is perfect. Most generally, the flaws lie in things that are beyond our control. Not to say that we shouldn't speak up if something is grievously wrong, but in each situation we're faced with, we have an option of focusing on the negative or the positive. If you choose the positive and look for the bright spots, the silver lining, and the good that can be found, you will be happier by far. So will I. 🙂 The negative? Try letting those irksome little foibles roll off your back. If you can't find something good to say, then say nothing at all.
Now, if you have something good to say about me, my books, my tea house or my B&B, please consider posting a positive review at whatever online sites you frequent. In this Chopped world, the gift of praise is so appreciated, and much needed. Ever so humbly… Sherrie
The review I've been waiting for (for Night and Day) from Romance Reader at Heart has been posted and it's good! I'm so excited! 🙂
It's been a little over a month since my first book, Night and Day, was released. Family members, friends, people around town, and several members of my husband's church have now read my baby… ah, my book.
Reactions have ranged from squeals of delight upon simply holding the book in their hands (bless you, Sue, for your enthusiasm), running out and purchasing a dozen copies without knowing whether or not it's good, bad or mediocre (thank you, Becky, my dear sister-in-law), to blaming their bleary eyes on me due to the fact that my book was too good to put down.  One friend, also a writer, wrote me a glowing review. She said that she wanted Anders for Christmas. This, I like to hear.
A few others don't seem to be able to look me in the eye. I know, you really don't want to know what your pastor's wife thinks about sex. It's a problem. I realize this.
Other have simply said they read the book. That's it. This is my least favorite response. Don't they know they're driving me crazy?
I want to scream, what did you think of it? Tellllllllll meeeeeeeeeeeeee NOOOOOOOOWWWWWWWWW.
I should be confident enough in my writing – in this book, that it doesn't matter what people think. Plenty of people have loved this book. It would be silly of me to think that everyone is going to like it. I've started reading several books that I haven't cared enough about to finish.  I mean, really… I should be flattered that they cared enough about me to buy the book, and finish reading it, shouldn't I?
And, if everybody on earth was fluent enough in the skills of communication to eloquently express what they feel, I'd be out of a job, because they'd all be writers, correct?
I love Night and Day. I believe in it. I am confident of my abilities as a writer. I know it's a great book, a wonderful story, a beautiful romance.
But I really, really want to know what you think… any little thing… a character you liked, a moment when you swooned, a situation you could relate to.  Please, tell me now.
Buy "Night and Day" now at http://www.SecondWindPublishing.com (they have the best price), or http://www.Amazon.com (search for Night and Day by Sherrie Hansen). If you'd like a signed copy, call the Blue Belle Inn B&B and Tea House and we'll mail you a copy. We accept MC/Visa/AmEx/Disc.
When you've read it, please don't forget to tell me what you think! 🙂