You are currently browsing the tag archive for the 'goldenrod' tag.
No this isn't an advertisement for essential oils – but when I received an email from Young Living about Goldenrod, I couldn't help but make some comparisons with my book Golden Rod. Their article opened with, "A bag of gold bullion or a bottle of Goldenrod? You'd think the decision would be an easy one, but fans of the oil would disagree…"  Words like, "
priceless, hands-down one of our most popular oils, worth the wait, loved by men and women alike for its grassy, bittersweet aroma and long list of benefits, from elevating your skin care routine to amping up a romantic vibe," made me think of my Golden Rod.
From a 5 star review of Golden Rod on Amazon: 
As a fan of Outlander and, well, men in kilts in general, I was eager to crack the virtual spine of this Scotland based contemporary romance. Our heroine, Katelyn O'Neal, has found herself by way of inheritance, the proud owner of a real life Scottish castle. Perfect, since she needs a ton of money and fast, in order to pay for an experimental cancer treatment that will save her twelve-year-old niece's life. All she has to do is fly to Scotland, make a few arrangements, and be on her way. Not even the charms of Golden-Haired, Most Fair, Prince Rod of Lachlan, or Rod MacKenzie as he's known in social circles, will sway her from her goals.
However, a pair of ghosts are hanging around, having been cursed to haunt the halls of Lachlan until a first born MacKenzie male inherits the castle. After 500 years, they're tired of waiting, and with the sale of the castle pending, they must use drastic measures to see that their curse be broken.
This story was full of well-developed characters and spectral shenanigans that had me cheering and boo-hissing at all the appropriate moments. One of those rare books that kept me up way past my bed time. I'm looking forward to reading more from this author.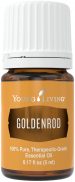 What is Goldenrod essential oil used for? Excerpts from the following list from YL draws more parallels  between their Goldenrod and my Golden Rod to mind:
1. Brighten your outlook. Add some positivity to your day with the scent of Goldenrod to sweeten extra-special moments.
2. Deepen your massage. Soak in the relaxing scent and reconnect with your partner by giving each other a massage for a romantic night in.
3. Make bedtime the best time. Enjoy its earthy aroma as you drift off to dreamland.
4. Go for the bold. Use Goldenrod to create a pleasant, masculine scent for men for a calming personal fragrance.
5. Make a great first impression. Nervous about meeting someone new? Let the relaxing aroma help calm those first-date jitters. 
6. Drench your skin in hydration. Add a drop to your moisturizer for smoother, irresistibly touchable skin.
7. Cuddle up with your true love. Create a cozy night in with the unifying blend of Goldenrod. Planning a romantic getaway? Combine your natural charm with Goldenrod for a truly memorable weekend.
If I haven't convinced you yet, here's another review of Golden Rod:
Wonderful! I thoroughly enjoyed this novel by Sherrie Hansen. I found it to be a sweet comical romance. What started out as an untimely and unwanted involvement between strangers blossomed into an unforgettable journey and romance… I loved the way that Scottish lore and legend was crafted into this modern day romance. I loved the way that the history of the Scots and the culture from Scotland was crafted into this story.
Hansen did a fantastic job making the words fly off the page. The world she created came to life and felt real, as if I was really there with the characters, seeing, feeling, and wanting everything they did. Bravo!
I think this reviewer captured the essence of Golden Rod, too:
A Legend Relived through Modern Day Romance:  A wonderful retelling of a Scottish legend through romance. The storytelling is beautiful and describes the beauty of Scotland in a way that will make you contemplate checking tickets for visiting the enchanting country. Through the story of Katelyn and Rod the author shows the fears and struggles we face daily. Katelyn as a character shows our aspect in the modern world, detached, cold and self centered at times. Preoccupied with her own problems she is not aware of anything around her or how her actions affect others. On the other hand through Rod we see the honorable, compassionate side of us. His love for Scotland is something that brings the realistic aspect in the story. His pride in his heritage and the land he calls home is something we can easily understand and with every right. His personality and love melt the walls Katelyn has built around her heart. I was truly impressed with the story and I'm looking forward to reading the rest of the books from this author.
And one more of my favorites – a review from the UK:
Heavenly Tale – This was such an enjoyable book to read as my fascination and love of Scotland is parallel to the authors. I am intrigued by castles and the folklore concerning ghosts, and this story had everything – passion, romance, and history – entwined with the beauty of the atmospheric lochs and mountains. The ghosts were particularly likeable – in every sense possible; be prepared for a little flutter. Brilliantly paced, expertly written.
With that, I'll leave you to draw your own conclusions – is Golden Rod right for you? If you haven't already read it, I hope you'll give it a try and see if you enjoy the essence of Golden Rod. If you have, I'd love to hear your thoughts!
Late summer is a golden time of year. Fields and ditches are full of goldenrod, tansy and black-eyed Susans blossoms shining bright in the sunlight. Springtime blues, lavenders and pinks gradually give way and are outshined by the yellow gold hues of early fall.
… Just one reason why late summer is the perfect time to read Golden Rod, my latest Wildflowers of Scotland novel.
When I first chose to name my new book Golden Rod, I had a flurry of people tell me that they were allergic to goldenrod, and associated  the flower with sneezing and feeling like their head was going to explode.
My research shows that allergies to goldenrod are very rare, since it is not airborne, and that people who suffer allergy symptoms this time of year are more likely affected by ragweed, which blooms at the same time.
Although I can truly promise you nothing by pleasant sensations if you read Golden Rod, this brings me to a related topic – why some of you think you are allergic to reading romance novels. Here are some of the reasons I hear from romance reading skeptics:
Fallacy #1:  Romance novels are for women. I'm a guy.
My Response:  Don't let my flowery titles fool you. My novels all have two perspectives, two point of view voices – one male and one female. My books are not about women living in a fantasy world – they're about men and women struggling along in a very real world. Their differing attitudes, perspectives, feelings, needs and approaches to problem-solving provide my books with stimulating conflict, movement within the plotlines, and differences of opinion. I've had many men tell me how much they enjoyed my books, and one couple who even argued over who got to read it first.
Fallacy #2:  Romance novels are shallow, dumbed down versions of the literary novels I enjoy.
My Response: A reviewer who's a very intelligent mathematician called my novels "the thinking women's romance." Doctors, lawyers, and professors have written telling me they enjoyed my books. My characters are complex and my novels include complicated situations and scenarios worthy of readers who like books that stimulate their intellect and emotions.
Fallacy #3:  I like action and adventure novels, thrillers and mysteries.
My Response: Today's romance novels can and do include all of the above. My books have included murders, sex-crimes, scams, thefts, kidnappings, and all kinds of deceitful goings on. They also include romance, but love definitely isn't the only thing between the covers (no pun intended).
Fallacy #4:  Romance novels are full of graphic sex scenes.
My Response: I've written on this topic previously. Some of my books have love scenes and some don't. When love scenes are included, they're not gratuitous, they're there for a reason. They're a necessary part of the plot. They're also sweet, tender and satisfying. Sometimes, they're even humorous. And just like real life, lovemaking is rife with consequences.
Fallacy #5:  Romance novels are filled with overly dramatic, shirtless bodybuilders and low-bodiced, big-busted heroines who I can't relate to.
My Response:  My books are set in modern times and my characters are as real as you are. Some are good-looking, others not. They have flaws and frustrations and quirks just like all of us do. That's what makes them so lovable and most importantly, believable.
So let me recommend this trusted cure for allergies. Expose yourself to just a little bit, then, gradually a little more, until your discomfort disappears. I'd be delighted if you'd try just one of my Wildflowers of Scotland novels, and Golden Rod is a great place to start. If you like it, you can read more.  Hopefully, you will find that you enjoy my romantic suspense novels.
What have you got to lose? Enjoy the goldtones of late summer, and don't be afraid to read a new book or a new author.
You'll find beauty in all kind of unexpected locations.