You are currently browsing the tag archive for the 'ghosts' tag.
No this isn't an advertisement for essential oils – but when I received an email from Young Living about Goldenrod, I couldn't help but make some comparisons with my book Golden Rod. Their article opened with, "A bag of gold bullion or a bottle of Goldenrod? You'd think the decision would be an easy one, but fans of the oil would disagree…"  Words like, "
priceless, hands-down one of our most popular oils, worth the wait, loved by men and women alike for its grassy, bittersweet aroma and long list of benefits, from elevating your skin care routine to amping up a romantic vibe," made me think of my Golden Rod.
From a 5 star review of Golden Rod on Amazon: 
As a fan of Outlander and, well, men in kilts in general, I was eager to crack the virtual spine of this Scotland based contemporary romance. Our heroine, Katelyn O'Neal, has found herself by way of inheritance, the proud owner of a real life Scottish castle. Perfect, since she needs a ton of money and fast, in order to pay for an experimental cancer treatment that will save her twelve-year-old niece's life. All she has to do is fly to Scotland, make a few arrangements, and be on her way. Not even the charms of Golden-Haired, Most Fair, Prince Rod of Lachlan, or Rod MacKenzie as he's known in social circles, will sway her from her goals.
However, a pair of ghosts are hanging around, having been cursed to haunt the halls of Lachlan until a first born MacKenzie male inherits the castle. After 500 years, they're tired of waiting, and with the sale of the castle pending, they must use drastic measures to see that their curse be broken.
This story was full of well-developed characters and spectral shenanigans that had me cheering and boo-hissing at all the appropriate moments. One of those rare books that kept me up way past my bed time. I'm looking forward to reading more from this author.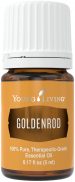 What is Goldenrod essential oil used for? Excerpts from the following list from YL draws more parallels  between their Goldenrod and my Golden Rod to mind:
1. Brighten your outlook. Add some positivity to your day with the scent of Goldenrod to sweeten extra-special moments.
2. Deepen your massage. Soak in the relaxing scent and reconnect with your partner by giving each other a massage for a romantic night in.
3. Make bedtime the best time. Enjoy its earthy aroma as you drift off to dreamland.
4. Go for the bold. Use Goldenrod to create a pleasant, masculine scent for men for a calming personal fragrance.
5. Make a great first impression. Nervous about meeting someone new? Let the relaxing aroma help calm those first-date jitters. 
6. Drench your skin in hydration. Add a drop to your moisturizer for smoother, irresistibly touchable skin.
7. Cuddle up with your true love. Create a cozy night in with the unifying blend of Goldenrod. Planning a romantic getaway? Combine your natural charm with Goldenrod for a truly memorable weekend.
If I haven't convinced you yet, here's another review of Golden Rod:
Wonderful! I thoroughly enjoyed this novel by Sherrie Hansen. I found it to be a sweet comical romance. What started out as an untimely and unwanted involvement between strangers blossomed into an unforgettable journey and romance… I loved the way that Scottish lore and legend was crafted into this modern day romance. I loved the way that the history of the Scots and the culture from Scotland was crafted into this story.
Hansen did a fantastic job making the words fly off the page. The world she created came to life and felt real, as if I was really there with the characters, seeing, feeling, and wanting everything they did. Bravo!
I think this reviewer captured the essence of Golden Rod, too:
A Legend Relived through Modern Day Romance:  A wonderful retelling of a Scottish legend through romance. The storytelling is beautiful and describes the beauty of Scotland in a way that will make you contemplate checking tickets for visiting the enchanting country. Through the story of Katelyn and Rod the author shows the fears and struggles we face daily. Katelyn as a character shows our aspect in the modern world, detached, cold and self centered at times. Preoccupied with her own problems she is not aware of anything around her or how her actions affect others. On the other hand through Rod we see the honorable, compassionate side of us. His love for Scotland is something that brings the realistic aspect in the story. His pride in his heritage and the land he calls home is something we can easily understand and with every right. His personality and love melt the walls Katelyn has built around her heart. I was truly impressed with the story and I'm looking forward to reading the rest of the books from this author.
And one more of my favorites – a review from the UK:
Heavenly Tale – This was such an enjoyable book to read as my fascination and love of Scotland is parallel to the authors. I am intrigued by castles and the folklore concerning ghosts, and this story had everything – passion, romance, and history – entwined with the beauty of the atmospheric lochs and mountains. The ghosts were particularly likeable – in every sense possible; be prepared for a little flutter. Brilliantly paced, expertly written.
With that, I'll leave you to draw your own conclusions – is Golden Rod right for you? If you haven't already read it, I hope you'll give it a try and see if you enjoy the essence of Golden Rod. If you have, I'd love to hear your thoughts!
With everyone so worked up about rumors of fake news, I'm glad I'm not a news writer. But yesterday, I more or less got accused of writing fake fiction. I was telling people about my book, Night and Day, and that it was loosely based on the story of why my great-great grandparents emigrated from Denmark.
I told them the reputed true part of the story (my great, great grandma was a very beautiful woman, who my great, great grandfather brought to America to get away from another man who was in love with her). I then said that the rest of the book was a product of my wild imagination – one possible explanation of what might have happened in Denmark all those decades ago.
I went on to describe Golden Rod, my most recent release, including the legends and castles that inspired the book. And then I mentioned ghosts.
"So this book isn't true," said one of the ladies.
"None of them are true," I said. "They're fiction."
"But if there are ghosts, Golden Rod can't be based on a true story."
"But it is," I said. "We toured a castle in Scotland that has been under a curse for over 500 years. A traveling minister offered to bless the castle, and when his offer was rejected because the owners preferred to wait for the priest, he cursed the castle, promising that no eldest son would ever inherit. In all these years, none has."
"But if there are ghosts in the story…"
"Fictional ghosts. All of my novels are fiction." I told them about a second castle we toured, and the legend of a woman who fell from a fourth story window, and the upside down writing carved into the castle wall, 3 ½ stories up where no one but a ghost could reach. "It's fiction based on a true story," I tried to explain. "Just like Night and Day. And another of my books, Blue Belle, which was inspired by the tale of a Spanish galleon that went down in Tobermory Bay in 1588, fully loaded with gold that has never been recovered."
"But if it happened that long ago, no one knows what really happened."
"Right. That's why it's fiction."
Perhaps the real truth is that there's a nugget of something that really happened in all my books – or very probably happened – or at least, very probably happened in some similar form, or in a slightly different way, or in a different time.
The truth – altered just enough to protect the not so innocent, which in some cases might be me, and to throw family members, acquaintances, and any others who might judge me off the scent.  The truth – transformed just enough to convince the reader that this is a work of fiction, that the characters, incidents, and dialogs are products of the author's imagination and not, under any circumstances, to be construed as real.
Because the truth is, any resemblance to actual persons, living or dead, is entirely coincidental. They're all fiction, people. That's my story, and I'm sticking to it.
I write fiction. Still, everything that filters through my brain is based on the reality of my life, my experiences, and my beliefs. I'm a complex person, and so are my books. Real life occurrences inspire fictional stories. Imaginary tales spring from a nugget of truth, either learned or observed.
Fake fiction? You be the judge.
Although my Wildflowers of Scotland books are contemporary, I always find a way to weave in a wee bit of history… an old kirk with architectural and religious artifacts gone missing, a sunken Spanish galleon filled with gold that was never recovered, a castle with a melancholy history all its own, or the Isle of Skye's magical Fairy Glen. In GOLDEN ROD, I incorporated a touch of history via a 500-year-old castle that was cursed by a traveling minister when the owners refused his blessing, preferring to wait for the prayers of a Catholic priest.  At least, that's what legend holds, and it would seem the legends are true, since no eldest son has ever inherited Lachlan Castle – not once in 500 years.
From GOLDEN ROD:
A traveling Protestant minister who liked to speak in rhymes leveled the curse when the MacKenzie clan refused his blessing, preferring to wait until a Catholic priest could dedicate the newly built edifice.
Oh Lachlan, ye're on shifting sand.
Nae eldest son shall have a hand
In furth'ring hist'ry on this land.
In the history of the castle, no eldest son has succeeded his father as heir of Lachlan Castle.
All kinds of tragedies have transpired as a result of the minister's curse, including ghosts Laird Valan MacKenzie and Lady Rosemary being stranded at Lachlan for over 500 years.
A ghost dressed in full Highland attire roams the castle and grounds at Lachlan, on the shores of Loch Carron. A favorite of locals, Laird Valan MacKenzie so desperately wanted a son to pass the castle on to that he may have taken his wife's life when she bore him nothing but daughters. Laird Valan's version of the event was that his wife tripped and fell to her death despite his best efforts to save her. Many a guest has seen Laird Valan's kilt, plaid, and sporran. Legend has it that Valan will haunt the castle until an ancient curse is broken.
I won't ask if you believe in ghosts because it doesn't matter. GOLDEN ROD is a work of fiction, so all I'm asking you to do is to suspend your disbelief while you're reading the book. But whatever our beliefs, I think we all have thoughts on the subject of ghosts. Some of us are afraid of them, or would be afraid to stay in a place that's haunted by ghosts. Others are fascinated or even intrigued by ghostly happenings and seek out places that are reputedly haunted. What about you? Maybe you've had your hair stand on end when you've been seated around a campfire listening to ghost stories. How do you react to the subject of ghosts?
A ghost, known as the "Blue Lady" also frequents Lachlan Castle, on Loch Carron. She is thought to be the wife of Laird Valan MacKenzie, and mother to their five daughters. Her husband allegedly pushed her from a fourth floor window so he could take a new wife who might bear him a son. The ghost of Lady Rosemary MacKenzie, who ironically, was discovered to have been pregnant with a son at the time of her death, is said to have scratched the words, The Son You Always Wanted, upside down on the window sill outside the bedroom window where she fell. The inscription can still be seen there today. It is reported that the "Blue Lady" leaves the scent of rosemary and bluebells wherever she goes. Because her own life ended so tragically, legend holds that the "Blue Lady" will haunt the castle until a Lachlan love story ends with a happily-ever-after ending. Unfortunately, due to an old curse, the dreams of many a castle resident have ended tragically, perpetuating the haunting of the castle by Lady Rosemary.
 I grew up watching tales of Casper the Friendly Ghost,  the classic Christmas Carol, and even Ghostbusters, so I've always been comfortable with the concept of ghosts. In church, we heard about the Holy Ghost, a comforting presence who was always with us. When I bought a house in St. Ansgar, Iowa and turned it into a B&B and tea house, locals told me about a friendly ghost who rescued the century old floor plans from the dump and returned them to the house when they were accidentally thrown away, among other adventures. So in one form or another, I've always accepted that ghosts are real.
In GOLDEN ROD, Rod MacKenzie has felt the presence of Laird Valan and Lady Rosemary since he was young, but never had a direct encounter with them – until Katelyn O'Neal arrives from America and stirs things up.
Katelyn thinks the whole thing is a crock, and is convinced there has to be some sort of logical, scientific explanation for the odd things that are happening to her.
Laird Valan and Lady Rosemary, the ghostly duo from GOLDEN ROD, have very distinctive personalities and a sometimes quirky sense of humor. As Laird Valan and Lady Rosemary get more and more desperate to break the 500 year old curse so they can finally rest in peace, the stakes grow higher.
Once Rod discovers what they're up to, he's more than happy to comply, or at least humor them, except that Katelyn's niece is dying, and if he has to choose who to help, a dying twelve year old or a pair of ghosts who've already been dead for five hundred years, the choice is clear. Except that nothing is clear – and Laird Valan and Lady Rosemary will do anything to change history and break the curse that binds them.
You'll have to read GOLDEN ROD to learn how the story ends. Here are the Buy Links for GOLDEN ROD at Amazon:
Kindle: http://a.co/3zRGCpF
Paperback: http://a.co/8oJpv4Q
In the meantime, I hope the ghosts that may haunt you are friendly ones.                                                                                                                                                                     
An almost full moon reflected off a pond hugged by beds of flowers in blues, yellows and violets of various heights. In the center, a fountain trickled down the neck and breasts of a stone statue of a woman with full hips and voluptuous curves. The scene was framed by walls of stone and brick, etched with pink climbing roses and lavender wisteria. This is what they were going to destroy?
As Mark and I head off on another trip to indulge our love affair with Great Britain and research settings of future books, I'm anticipating the release of GOLDEN ROD, the book inspired by last year's journey to Scotland.
One of the things I most love about writing is the chance to scope out new locations – and with them, the likeable qualities and legends that give the place its charm. And when we get home, my pleasure is doubled when I get to sit down with my thoughts, reminisce about our experiences, and craft a story with word pictures about the places we've seen.
Although Rod MacKenzie's exquisite walled garden and the unique castle pictured on the front cover of GOLDEN ROD are fictional in the sense that they're not located along the shores of Loch Carron, many of the other spots mentioned in the book are as real as you and me. In the text below, I'm going to share a snippet from GOLDEN ROD followed by a photo of the real life image that inspired it. Craigievar Castle, Leith Hall Garden and Crarae Garden, which I magically transported to the Lochcarron and the Wester Ross area of Western Scotland, are actually located to the east in Aberdeenshire and Argyll. Enjoy!
The blue waters of Loch Carron disappeared, then reappeared. The road widened. Katelyn glanced out the window and caught sight of a rusty old gate surrounding a cemetery. The stones were all but covered with moldy-looking splotches of who knew what and some sort of green slime that looked straight from the pages of a horror flick.
A few blocks later, a large white building appeared. The huge black letters on its side wall spelled LOCHCA, followed by an R dangling precariously from what looked to be one nail, and a tenuous RON. Which is exactly what she wished she'd done the second she set foot in Scotland – run. Rod might have fanciful – make that delusional – images of the town where he'd been raised, but all she could see was a place that needed a good PR person to improve and update its sad, sorry, broken down image.
The town was comprised of a long row of houses on one side, with a sidewalk, a greenbelt, and the lake on the other.
Rod pulled into a parking spot and came around to open the door for her. The sign on the front of the whitewashed building with blue trim and a slate roof said Waterside Café, Tearoom Takeaway. There were round picnic tables with bright blue umbrellas over the top in front. Rod straddled the bench of one, and motioned for her to have a seat.
"Ye can go in and look at the menu board on the wall if ye like, or wait. They'll bring ye a menu in a minute."
"You don't need one?"
"Nae. They know what I want."
"How could they?"
"I'm a regular."
"And you have the same thing every time?"
"For lunch, Stornoway Black Pudding Stack. It's layered with apples and Stilton cheese. Pure dead brilliant."
 "M'Lady? M'Lady? Are ye here?" Valan MacKenzie stood at the window where his wife had fallen to her death 500 years earlier and started to sing her favorite song in the hope she would come to him.
When bluebells start to bloom each spring, I'll come to ye. My love I'll bring.
My heart for ye, it always breaks. But sadness will nae overtake.
For hope lives on in each new day. My love for ye will find its way.
Rod was holding two large china plates. "I took the liberty of getting some essentials since ye were asleep when we reached the grocery. I thought ye'd enjoy trying a full Scottish breakfast – eggs, bacon, sausages, potatoes, mushrooms, tomatoes and toast. I skipped the haggis and the black pudding on yer plate since ye seemed a bit squeamish about them yesterday, but the rest should be-"
Her stomach had started to roil at the word eggs. It wasn't that she disliked eggs, but the thought of eating such a huge breakfast when she was stressed out and in an unfamiliar place and it wasn't even breakfast time where she was from…
They walked through the laburnum archway he and his da had planted a decade earlier. The slender yellow fronds were just starting to fade.
A minute later, Katelyn came flouncing down the steps of the blue and white house where Colin's office was located. He'd never met anyone – man or woman – with so much attitude.
The taller one smiled. "Is Sea Worthy booked for the rest of the afternoon or are you free? We were hoping to see Kilt Rock and Portree from the sea."
"Do ye like fish? I've two nicely smoked haddock filets that I picked up in Portree this afternoon. My mother used to make something called Haddock Mornay. It's been years, but I think I can remember how to make the sauce."
Katelyn looked up and smiled faintly. Aye, the lass was warming up to him awright.
"My mum would make a roux and then stir a wee bit of garlic salt and some buttery, soft white Cheddar from the Isle of Arran into the cream. If ye're a fan of fish, the taste of the Mornay sauce, o'er a bit of mash, is pure dead brilliant."
Rod tried to put Katelyn out of his mind as he walked back to the cottage. The deep, mossy scents of the forest floor, the sun-warmed pine needles, and the last remnants of the bluebells filled his nostrils with the familiar scents he loved so much. He could have spent all evening in the woods.
Katelyn twirled slowly, not willing to miss a single degree of the panorama spread out in front of her. "Thank you so much for bringing me here. I can't imagine a place more beautiful than this one." She peeked through the lacey fronds of Scotch pines and Douglas firs that stretched from blue waters to bluer skies.
Rod put one arm around her shoulder and pointed with the other. "See the big white house on the other side of the loch? That's Stromeferry, where my grandpa's ferry used to operate."
Katelyn looked past the feathery fir trees and the hillside covered in bluebells, and the buttercups in bloom, and caught a glimpse of the sky. Moody, grey, towering clouds cast shadows into each valley, every fold of the hillside, turning sunshine to gloom. She felt as unsettled as a changeling, which she might as well believe in now that she'd met a pair of ghosts and God.
She could have stood with her neck arched, looking up at the roiling clouds, forever. It wasn't because they were beautiful, or even captivating. They were on the move, ever-changing. They were frighteningly unpredictable. They were out of control, so various and sundry that one couldn't be sure what was going to happen from minute to minute say nothing about tomorrow. Just like her life.
I hope you'll read GOLDEN ROD when it comes out next month! Although you'll see a few familiar faces from my first four Wildflowers of Scotland novels, it's not necessary to read any of them to enjoy GOLDEN ROD.
The only way Katelyn O'Neal can save her niece's life is to ruin Rod Mackenzie's. One 600-year-old Scottish castle. A rightful heir. A legal heir. Two desperate ghosts. GOLDEN ROD by Sherrie Hansen. Coming from Indigo Sea Press in June 2017.
If Prince Rod of Lachlan sounds like something straight from the pages of a fairy tale, you're right.
When Katelyn O'Neal, a reluctant "princess" from Minnesota, inherits a castle from a great uncle she met only once, she views the whole ordeal as a huge bother, except that selling the castle to a rich developer will pay for a very expensive, experimental cancer treatment for her 12 year old niece, Kacie.
Rod MacKenzie, the illegitimate but rightful heir to Lachlan, has used his own time and money to take care of the castle and its magnificent gardens for years – despite the fact that his grandfather wrote him out of his will. Rod would love to live happily ever after in the land of his ancestors even though he's always known it was an impossibility.
Add Laird Valan MacKenzie and the lovely Lady Rosemary, a pair of 500 year old ghosts who are bound to the castle by age-old curses, and would do anything to escape the place, and you have GOLDEN ROD, a two-week romp through a lifetime of legends that turns everything upside down.
Lachlan – a centuries old castle on Loch Carron in Scotland. Kacie – a twelve year old girl whose dying wish is to see it. Laird Valan and Lady Rosemary – 500 year old ghosts who desperately want to escape it. Golden-Haired, Most Fair, Prince Rod MacKenzie – the rightful heir who loves Lachlan and its gardens even though he will never inherit.  Katelyn O'Neal – the legal heir who unwitting sold the castle to a low life scum at a high price.
GOLDEN ROD, a Wildflowers of Scotland novel by Sherrie Hansen – coming from Indigo Sea Press in June 2017.