You are currently browsing the tag archive for the 'castles' tag.
No this isn't an advertisement for essential oils – but when I received an email from Young Living about Goldenrod, I couldn't help but make some comparisons with my book Golden Rod. Their article opened with, "A bag of gold bullion or a bottle of Goldenrod? You'd think the decision would be an easy one, but fans of the oil would disagree…"  Words like, "
priceless, hands-down one of our most popular oils, worth the wait, loved by men and women alike for its grassy, bittersweet aroma and long list of benefits, from elevating your skin care routine to amping up a romantic vibe," made me think of my Golden Rod.
From a 5 star review of Golden Rod on Amazon: 
As a fan of Outlander and, well, men in kilts in general, I was eager to crack the virtual spine of this Scotland based contemporary romance. Our heroine, Katelyn O'Neal, has found herself by way of inheritance, the proud owner of a real life Scottish castle. Perfect, since she needs a ton of money and fast, in order to pay for an experimental cancer treatment that will save her twelve-year-old niece's life. All she has to do is fly to Scotland, make a few arrangements, and be on her way. Not even the charms of Golden-Haired, Most Fair, Prince Rod of Lachlan, or Rod MacKenzie as he's known in social circles, will sway her from her goals.
However, a pair of ghosts are hanging around, having been cursed to haunt the halls of Lachlan until a first born MacKenzie male inherits the castle. After 500 years, they're tired of waiting, and with the sale of the castle pending, they must use drastic measures to see that their curse be broken.
This story was full of well-developed characters and spectral shenanigans that had me cheering and boo-hissing at all the appropriate moments. One of those rare books that kept me up way past my bed time. I'm looking forward to reading more from this author.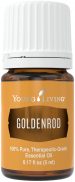 What is Goldenrod essential oil used for? Excerpts from the following list from YL draws more parallels  between their Goldenrod and my Golden Rod to mind:
1. Brighten your outlook. Add some positivity to your day with the scent of Goldenrod to sweeten extra-special moments.
2. Deepen your massage. Soak in the relaxing scent and reconnect with your partner by giving each other a massage for a romantic night in.
3. Make bedtime the best time. Enjoy its earthy aroma as you drift off to dreamland.
4. Go for the bold. Use Goldenrod to create a pleasant, masculine scent for men for a calming personal fragrance.
5. Make a great first impression. Nervous about meeting someone new? Let the relaxing aroma help calm those first-date jitters. 
6. Drench your skin in hydration. Add a drop to your moisturizer for smoother, irresistibly touchable skin.
7. Cuddle up with your true love. Create a cozy night in with the unifying blend of Goldenrod. Planning a romantic getaway? Combine your natural charm with Goldenrod for a truly memorable weekend.
If I haven't convinced you yet, here's another review of Golden Rod:
Wonderful! I thoroughly enjoyed this novel by Sherrie Hansen. I found it to be a sweet comical romance. What started out as an untimely and unwanted involvement between strangers blossomed into an unforgettable journey and romance… I loved the way that Scottish lore and legend was crafted into this modern day romance. I loved the way that the history of the Scots and the culture from Scotland was crafted into this story.
Hansen did a fantastic job making the words fly off the page. The world she created came to life and felt real, as if I was really there with the characters, seeing, feeling, and wanting everything they did. Bravo!
I think this reviewer captured the essence of Golden Rod, too:
A Legend Relived through Modern Day Romance:  A wonderful retelling of a Scottish legend through romance. The storytelling is beautiful and describes the beauty of Scotland in a way that will make you contemplate checking tickets for visiting the enchanting country. Through the story of Katelyn and Rod the author shows the fears and struggles we face daily. Katelyn as a character shows our aspect in the modern world, detached, cold and self centered at times. Preoccupied with her own problems she is not aware of anything around her or how her actions affect others. On the other hand through Rod we see the honorable, compassionate side of us. His love for Scotland is something that brings the realistic aspect in the story. His pride in his heritage and the land he calls home is something we can easily understand and with every right. His personality and love melt the walls Katelyn has built around her heart. I was truly impressed with the story and I'm looking forward to reading the rest of the books from this author.
And one more of my favorites – a review from the UK:
Heavenly Tale – This was such an enjoyable book to read as my fascination and love of Scotland is parallel to the authors. I am intrigued by castles and the folklore concerning ghosts, and this story had everything – passion, romance, and history – entwined with the beauty of the atmospheric lochs and mountains. The ghosts were particularly likeable – in every sense possible; be prepared for a little flutter. Brilliantly paced, expertly written.
With that, I'll leave you to draw your own conclusions – is Golden Rod right for you? If you haven't already read it, I hope you'll give it a try and see if you enjoy the essence of Golden Rod. If you have, I'd love to hear your thoughts!
The next leg of our Scottish journey felt like coming home. We make it a point to see new places and things each time we come to Scotland, but we also plan return visits to places we didn't get enough of the first time around.  
Coming back to the Isle of Skye on the ferry from Harris felt like meeting up with an old, familiar friend for a quick catch up. We saw a phenomenal sunset while we headed back to our B&B, a newly built addition with a comfortable bed, an amazing, spa-like bathroom and a beautiful view of Loch Dunvegan. Only two things marred our visit – more midges and a sad state of affairs at a much-renowned Stein pub where we'd had wonderful meals twice before. We were truly shocked when our waitress ignored us for over an hour before taking our order, not even bringing us water or a menu, while the Scots at the table next to ours ordered, ate, paid and went their merry ways. I won't go into the details, but it was the first time we'd been treated rudely, probably because we were Americans, on any of our journeys. When our dinners finally arrived, my meat was tough and undercooked. I would have left without paying, but my nice husband took care of the bill and we departed completely mystified at the treatment we'd received.
The rest of our time on Skye was delightful. We enjoyed our room, and the nice breakfast treats left in the refrigerator, and went to sleep dreaming of the opportunity to see some of our favorite spots from two years ago. After taking in the scenery on the loop from Dunvegan to Sligachan Valley, we followed the highway toward Armadale Castle and Gardens, on the east side of Skye, which we had not seen our first trip.
The gardens were lovely and the ruins of the castle were serene and full of interesting historical images. Our hike through the forest was as brief as we could manage as the dreaded midges were once again out in full force. Thankfully, after we left the castle, we found a locally manufactured concoction made with natural ingredients and essential oils that did seem to deter them, as well as soothing the bites I already had.
We stopped at Dorney and Eilean Donan Castle on our way to Loch Carron. Eilean Donan, the only place besides the Glasgow airport that we've seen on all three visits to Scotland, is the setting of Shy Violet, and plays a role in Sweet William. I truly do feel a connection to this castle. I took a copy of Sweet William along to give to one of the servers at the Castle café just like I did Shy Violet two years ago, and to my delight, they remembered me! The woman we gifted the book to even had a connection to the house on the front cover. Like so many aspects of our trip, the whole thing felt meant to be.
I had the same pleasant sense of déjà vu in Loch Carron. The idea for Golden Rod was born while I was there two years ago, and it was great fun to leave copies with the owner of the B&B where we stayed and the owner of the Waterside Café, which is mentioned in the book.  We revisited Lochcarron Weavers (and left with more wool remnants), stopped at my favorite craft shop (which had almost burned down in a forest fire the week before).
I bought a wee Scottish fairy, and saw the incredibly scenic overlooks we discovered last time. But from there on, everything we saw and did was entirely new. We had two incredible meals, one at Lochcarron Bistro that included some of the best food I've ever eaten.
 The next day, we set off for Applecross, a charming seaside village at the end of one of the steepest, scariest mountain roads I've ever been on. Mark navigated the narrow, winding road quite well, and our little Honda put forth a valiant effort while I tried to snap photos whenever I could. One didn't dare stop to shoot a photo midway up the incline for fear you'd never get going again. It was that steep.
Once we rounded a series of extremely sharp hairpin curves, we walked around the summit and stretched our tense legs. From there, it was downhill to Applecross, a very secluded town on the water, where we discovered a delightful garden that was being restored to its former glory.
It was totally unanticipated, and one of my favorite stops of the entire trip.
Coming down the mountain via the coastal road was a different kind of adventure, with wandering, remote single track roads lined with wildflowers, boothies, sheep and hairy coo, punctuated by the occasional fishing village. The one thing we never saw was a gas station, and we breathed a sigh of relief when we glided into Lochcarron on petrol fumes and miraculously found a gas station that was still open.    
The weather that day was warm and sunny, and perfect for exploring. We stopped frequently and stumbled upon a few gems on that trip over the mountain. I even discovered the work of a potter whose main shop was back in Strathcarron. I left with several little dishes and hearts made by Vicky Stonebridge at Balnacra Arts & Pottery, all in her signature pastel colors and whimsical designs. If ever I live in Lochcarron, I will visit her studio often.
The next morning, after another wonderful Scottish breakfast, we said goodbye and left for Fort William, a stopover on our way to Kilmartin Glen, our last major destination.
On the way, we finally found the spot where I took the photo that is on the front cover of Sweet William. I say finally because we'd looked and looked and never found it two years ago. The trick was, you had to get out of the car and hike past an old church ruin to get to the spot where you could look down into the valley to see what I fondly call Rabbit Hill Lodge (in my imagination and the world of Lyndsie and Violet in Sweet William.)
From there, it was more mountains and a drive through the Spey River valley to Speybridge. We heard a bagpiper playing at the summit and watched a storm approaching from the west. The storm followed us all the way to Fort William and while it doused our sightseeing efforts, it didn't deter us from poking around downtown and finding a restaurant that had room for two. I had haggis with neeps (mashed turnips) and tatties (mashed potatoes), served with a whiskey peppercorn gravy.
By this stage of the trip, we felt very aware of the fact that our vacation days were drawing to a close. I remember wondering if this would be the last time I got to enjoy haggis. I think it was – and a good note to end on, it was.
Sunday morning, we decided to try a Scottish church once more, and found a lively congregation much like what we're used to at Zion, in Hudson, Iowa, where my husband is the pastor. They had guitars and sang songs we knew, and the pastor was quite relaxed and even witty at times. While the people were very friendly and welcoming at both churches we visited, this one was more relaxed and joyous and felt like home.
It was hard to imagine that we would see anything in our last few days in country that would rival the sights we'd already enjoyed, but Kilmartin Glen did just that. It's called saving the best for last.
Until next time…
(Sherrie is the owner of the Blue Belle Inn B&B and Tea House in St. Ansgar, Iowa. She is a Wheaton College alumni, and attended University of Maryland, European Division, while living in Augsburg, Germany. Her husband is the pastor of Zion Lutheran Church, an LCMC Congregation in rural Hudson, Iowa. In Sherrie's spare time (?) she likes to dabble in the creative arts, play piano, paint, decorate vintage homes, and travel.)
Although my Wildflowers of Scotland books are contemporary, I always find a way to weave in a wee bit of history… an old kirk with architectural and religious artifacts gone missing, a sunken Spanish galleon filled with gold that was never recovered, a castle with a melancholy history all its own, or the Isle of Skye's magical Fairy Glen. In GOLDEN ROD, I incorporated a touch of history via a 500-year-old castle that was cursed by a traveling minister when the owners refused his blessing, preferring to wait for the prayers of a Catholic priest.  At least, that's what legend holds, and it would seem the legends are true, since no eldest son has ever inherited Lachlan Castle – not once in 500 years.
From GOLDEN ROD:
A traveling Protestant minister who liked to speak in rhymes leveled the curse when the MacKenzie clan refused his blessing, preferring to wait until a Catholic priest could dedicate the newly built edifice.
Oh Lachlan, ye're on shifting sand.
Nae eldest son shall have a hand
In furth'ring hist'ry on this land.
In the history of the castle, no eldest son has succeeded his father as heir of Lachlan Castle.
All kinds of tragedies have transpired as a result of the minister's curse, including ghosts Laird Valan MacKenzie and Lady Rosemary being stranded at Lachlan for over 500 years.
A ghost dressed in full Highland attire roams the castle and grounds at Lachlan, on the shores of Loch Carron. A favorite of locals, Laird Valan MacKenzie so desperately wanted a son to pass the castle on to that he may have taken his wife's life when she bore him nothing but daughters. Laird Valan's version of the event was that his wife tripped and fell to her death despite his best efforts to save her. Many a guest has seen Laird Valan's kilt, plaid, and sporran. Legend has it that Valan will haunt the castle until an ancient curse is broken.
I won't ask if you believe in ghosts because it doesn't matter. GOLDEN ROD is a work of fiction, so all I'm asking you to do is to suspend your disbelief while you're reading the book. But whatever our beliefs, I think we all have thoughts on the subject of ghosts. Some of us are afraid of them, or would be afraid to stay in a place that's haunted by ghosts. Others are fascinated or even intrigued by ghostly happenings and seek out places that are reputedly haunted. What about you? Maybe you've had your hair stand on end when you've been seated around a campfire listening to ghost stories. How do you react to the subject of ghosts?
A ghost, known as the "Blue Lady" also frequents Lachlan Castle, on Loch Carron. She is thought to be the wife of Laird Valan MacKenzie, and mother to their five daughters. Her husband allegedly pushed her from a fourth floor window so he could take a new wife who might bear him a son. The ghost of Lady Rosemary MacKenzie, who ironically, was discovered to have been pregnant with a son at the time of her death, is said to have scratched the words, The Son You Always Wanted, upside down on the window sill outside the bedroom window where she fell. The inscription can still be seen there today. It is reported that the "Blue Lady" leaves the scent of rosemary and bluebells wherever she goes. Because her own life ended so tragically, legend holds that the "Blue Lady" will haunt the castle until a Lachlan love story ends with a happily-ever-after ending. Unfortunately, due to an old curse, the dreams of many a castle resident have ended tragically, perpetuating the haunting of the castle by Lady Rosemary.
 I grew up watching tales of Casper the Friendly Ghost,  the classic Christmas Carol, and even Ghostbusters, so I've always been comfortable with the concept of ghosts. In church, we heard about the Holy Ghost, a comforting presence who was always with us. When I bought a house in St. Ansgar, Iowa and turned it into a B&B and tea house, locals told me about a friendly ghost who rescued the century old floor plans from the dump and returned them to the house when they were accidentally thrown away, among other adventures. So in one form or another, I've always accepted that ghosts are real.
In GOLDEN ROD, Rod MacKenzie has felt the presence of Laird Valan and Lady Rosemary since he was young, but never had a direct encounter with them – until Katelyn O'Neal arrives from America and stirs things up.
Katelyn thinks the whole thing is a crock, and is convinced there has to be some sort of logical, scientific explanation for the odd things that are happening to her.
Laird Valan and Lady Rosemary, the ghostly duo from GOLDEN ROD, have very distinctive personalities and a sometimes quirky sense of humor. As Laird Valan and Lady Rosemary get more and more desperate to break the 500 year old curse so they can finally rest in peace, the stakes grow higher.
Once Rod discovers what they're up to, he's more than happy to comply, or at least humor them, except that Katelyn's niece is dying, and if he has to choose who to help, a dying twelve year old or a pair of ghosts who've already been dead for five hundred years, the choice is clear. Except that nothing is clear – and Laird Valan and Lady Rosemary will do anything to change history and break the curse that binds them.
You'll have to read GOLDEN ROD to learn how the story ends. Here are the Buy Links for GOLDEN ROD at Amazon:
Kindle: http://a.co/3zRGCpF
Paperback: http://a.co/8oJpv4Q
In the meantime, I hope the ghosts that may haunt you are friendly ones.                                                                                                                                                                     
An almost full moon reflected off a pond hugged by beds of flowers in blues, yellows and violets of various heights. In the center, a fountain trickled down the neck and breasts of a stone statue of a woman with full hips and voluptuous curves. The scene was framed by walls of stone and brick, etched with pink climbing roses and lavender wisteria. This is what they were going to destroy?
As Mark and I head off on another trip to indulge our love affair with Great Britain and research settings of future books, I'm anticipating the release of GOLDEN ROD, the book inspired by last year's journey to Scotland.
One of the things I most love about writing is the chance to scope out new locations – and with them, the likeable qualities and legends that give the place its charm. And when we get home, my pleasure is doubled when I get to sit down with my thoughts, reminisce about our experiences, and craft a story with word pictures about the places we've seen.
Although Rod MacKenzie's exquisite walled garden and the unique castle pictured on the front cover of GOLDEN ROD are fictional in the sense that they're not located along the shores of Loch Carron, many of the other spots mentioned in the book are as real as you and me. In the text below, I'm going to share a snippet from GOLDEN ROD followed by a photo of the real life image that inspired it. Craigievar Castle, Leith Hall Garden and Crarae Garden, which I magically transported to the Lochcarron and the Wester Ross area of Western Scotland, are actually located to the east in Aberdeenshire and Argyll. Enjoy!
The blue waters of Loch Carron disappeared, then reappeared. The road widened. Katelyn glanced out the window and caught sight of a rusty old gate surrounding a cemetery. The stones were all but covered with moldy-looking splotches of who knew what and some sort of green slime that looked straight from the pages of a horror flick.
A few blocks later, a large white building appeared. The huge black letters on its side wall spelled LOCHCA, followed by an R dangling precariously from what looked to be one nail, and a tenuous RON. Which is exactly what she wished she'd done the second she set foot in Scotland – run. Rod might have fanciful – make that delusional – images of the town where he'd been raised, but all she could see was a place that needed a good PR person to improve and update its sad, sorry, broken down image.
The town was comprised of a long row of houses on one side, with a sidewalk, a greenbelt, and the lake on the other.
Rod pulled into a parking spot and came around to open the door for her. The sign on the front of the whitewashed building with blue trim and a slate roof said Waterside Café, Tearoom Takeaway. There were round picnic tables with bright blue umbrellas over the top in front. Rod straddled the bench of one, and motioned for her to have a seat.
"Ye can go in and look at the menu board on the wall if ye like, or wait. They'll bring ye a menu in a minute."
"You don't need one?"
"Nae. They know what I want."
"How could they?"
"I'm a regular."
"And you have the same thing every time?"
"For lunch, Stornoway Black Pudding Stack. It's layered with apples and Stilton cheese. Pure dead brilliant."
 "M'Lady? M'Lady? Are ye here?" Valan MacKenzie stood at the window where his wife had fallen to her death 500 years earlier and started to sing her favorite song in the hope she would come to him.
When bluebells start to bloom each spring, I'll come to ye. My love I'll bring.
My heart for ye, it always breaks. But sadness will nae overtake.
For hope lives on in each new day. My love for ye will find its way.
Rod was holding two large china plates. "I took the liberty of getting some essentials since ye were asleep when we reached the grocery. I thought ye'd enjoy trying a full Scottish breakfast – eggs, bacon, sausages, potatoes, mushrooms, tomatoes and toast. I skipped the haggis and the black pudding on yer plate since ye seemed a bit squeamish about them yesterday, but the rest should be-"
Her stomach had started to roil at the word eggs. It wasn't that she disliked eggs, but the thought of eating such a huge breakfast when she was stressed out and in an unfamiliar place and it wasn't even breakfast time where she was from…
They walked through the laburnum archway he and his da had planted a decade earlier. The slender yellow fronds were just starting to fade.
A minute later, Katelyn came flouncing down the steps of the blue and white house where Colin's office was located. He'd never met anyone – man or woman – with so much attitude.
The taller one smiled. "Is Sea Worthy booked for the rest of the afternoon or are you free? We were hoping to see Kilt Rock and Portree from the sea."
"Do ye like fish? I've two nicely smoked haddock filets that I picked up in Portree this afternoon. My mother used to make something called Haddock Mornay. It's been years, but I think I can remember how to make the sauce."
Katelyn looked up and smiled faintly. Aye, the lass was warming up to him awright.
"My mum would make a roux and then stir a wee bit of garlic salt and some buttery, soft white Cheddar from the Isle of Arran into the cream. If ye're a fan of fish, the taste of the Mornay sauce, o'er a bit of mash, is pure dead brilliant."
Rod tried to put Katelyn out of his mind as he walked back to the cottage. The deep, mossy scents of the forest floor, the sun-warmed pine needles, and the last remnants of the bluebells filled his nostrils with the familiar scents he loved so much. He could have spent all evening in the woods.
Katelyn twirled slowly, not willing to miss a single degree of the panorama spread out in front of her. "Thank you so much for bringing me here. I can't imagine a place more beautiful than this one." She peeked through the lacey fronds of Scotch pines and Douglas firs that stretched from blue waters to bluer skies.
Rod put one arm around her shoulder and pointed with the other. "See the big white house on the other side of the loch? That's Stromeferry, where my grandpa's ferry used to operate."
Katelyn looked past the feathery fir trees and the hillside covered in bluebells, and the buttercups in bloom, and caught a glimpse of the sky. Moody, grey, towering clouds cast shadows into each valley, every fold of the hillside, turning sunshine to gloom. She felt as unsettled as a changeling, which she might as well believe in now that she'd met a pair of ghosts and God.
She could have stood with her neck arched, looking up at the roiling clouds, forever. It wasn't because they were beautiful, or even captivating. They were on the move, ever-changing. They were frighteningly unpredictable. They were out of control, so various and sundry that one couldn't be sure what was going to happen from minute to minute say nothing about tomorrow. Just like her life.
I hope you'll read GOLDEN ROD when it comes out next month! Although you'll see a few familiar faces from my first four Wildflowers of Scotland novels, it's not necessary to read any of them to enjoy GOLDEN ROD.
The only way Katelyn O'Neal can save her niece's life is to ruin Rod Mackenzie's. One 600-year-old Scottish castle. A rightful heir. A legal heir. Two desperate ghosts. GOLDEN ROD by Sherrie Hansen. Coming from Indigo Sea Press in June 2017.
I think by now, anyone who has followed my travels to Europe or read my Wildflowers of Scotland novels has figured out how I feel about castles. Although it's a wee bit unusual to see a man in a kilt in the Midwest where I live, I saw an abundance of them at the Minnesota Scottish Fair and Highland Games earlier this month.
Cows dot the hillsides and valleys all over the countryside in the rural areas of southern Minnesota and northern Iowa that I frequent – castles, not so much.
While castles and kilts are one of the main reasons I set my most recent novels in Scotland, in Sweet William, I also came home to my Minnesota roots and Midwest connections. And the common denominator is the cow.
My first introduction to the Highlander breed of cows, commonly called Hairy Coo in Scotland, was 9 years ago at a B&B alongside Loch Ness.
The owner hadn't fed the coos their dinner for the day, so they were all gathered by the fence, waiting patiently, when we arrived to check in. When I started taking photos, she told me to pay close attention to how thick their hides were. She said they'd had heavy snow a few months earlier, during the cold of winter, and that the 7 or 8 inches that had accumulated on the backs of each coo during the storm stayed exactly where it fell for 2 or 3 weeks, until a stiff wind and warming temperatures finally blew and melted off their white winter coats. Their hides are so thick that not even their body heat melted the snow away. That was my first glimpse into why many hardy breeds of cattle come from the highlands of Scotland.
I started watching for hairy coo wherever we drove from that point on, and included a scene with a toppled coo in Blue Belle. Michael St. Dawndalyn was embarrassed that he didn't know more about coo even though he was from Oconomowoc, Wisconsin, deep in the heart of the dairy state.
That's only one of the Midwest Connections in the Wildflowers of Scotland novels. Although each of the characters in Wild Rose is native to the UK, beginning with Blue Belle, many of the main characters are from the Midwest.
Wisconsinite Michael and Virginia blue belle Isabelle are hiding out, hoping to escape their troubles by settling in a place far, far away from waging tongues and family dramas in their hometowns. When they discover that the world is a much smaller place than they'd thought, and it's next to impossible to lose yourself in today's electronic age, they end up back in the US to own up to the messes they were fleeing from.
Both Violet and Nathan are from America, Nathan on a teacher exchange and Violet, on an ill-fated European Adventure. When they're both haunted and very nearly destroyed by the past – despite their wish to create a new life for themselves in Scotland – they find that they're made of stronger stuff than they'd once imagined.
William, Michael's cousin from southern Minnesota, appears at the very end of Shy Violet and steals the show with his buttery soft potato rolls and sweet Farm Boy BBQ sauce. The only one who's not impressed is Rose's niece, Violet's friend, Lyndsie, who doesn't like her meat – or her men – sweet. What happens next is like an episode of Chopped come to life, as sweet William and sassy Lyndsie spar in a charged cook-off.
Calamity strikes just when everything finally seems to come together, and on the other side of the globe, a whole new set of troubles present themselves.
Scenes set in fictional Blue River, Minnesota and at the Minnesota State Fair will make Midwestern readers feel right at home. Fancy castle or farm house comfortable, there are quirky characters that readers can relate to in each of my Wildflowers of Scotland books.
When I started researching cattle for Sweet William, I not only learned a lot about Highland cows, but French Charolais, and two other breeds that originated in Scotland – Belted Galloway and Aberdeen Angus. Without really intending it, cows became the unifying factor between Scotland and the United States.
My nieces and nephew raise cattle and show heifers at their county fair in southern Minnesota, so I had expert advice to draw on. My niece, Victoria, educated me about the different personality traits of various breeds – which are skittish, gentle, or aggressive and likely to be mean, which have horns, and which are polled (hornless), which are able to withstand poor soil, rocky terrains and wet climates, and which produce lean meat and best care for their calves.
When it comes right down to it, there are likely more differences in cattle than there are in people. Although living conditions, traditions and perspectives may vary from culture and country, I think human nature is pretty consistent from one part of the world to another. A reader recently wrote to me and said, "Boy, you know people. I have been practicing psychology and social work for 45 years and you must have been sitting in the office next to me. You know your stuff!" Whether I'm traveling in or writing about France, Romania, Germany, Denmark, or Scotland, I love observing interactions between people.
I've been told by several readers that when I started writing my Wildflowers of Scotland novels, they missed the local color, familiar places, and quirky Midwestern characters from my first five books, which are all set in Minnesota or Iowa. If you doubt that people are the same everywhere, check out the church ladies in Wild Rose. In the meantime, I hope my local readers are pleased that Sweet William is partially set on a farm in Southern Minnesota. Wherever you're from in the world, I hope you'll feel "at home" when you're reading my books.
I've been hearing Scottish accents in my head for over a decade, and now, after returning from my second trip to Bonnie Scotland, my mind's eye is just as steeped in images of the highlands and islands I've been writing about.
Our trip was a flurry of wildflowers and walled gardens, castles and keeps, and lochs and legends. My mind is whirling with the characters and construct of a new story, ancient ghosts and curses, and modern day longings and desires set to clash like pitchforks and swords at Culloden.
One of my characters is the "rightful" heir of a castle and as fascinated and enamored of Scotland as I am, the other is there only because she could find no other way to wiggle out of her duties as the legal heir of a castle she cares nothing about.
Even more exciting is the sense of déjà vu I feel about the Wildflowers of Scotland books I've already written.
As I spotted each of the wildflowers I've featured in Thistle Down, Wild Rose, Blue Belle, Shy Violet, and Sweet William, and the castles and kirks that provide a backdrop for each of the stories, the characters have come to life for me all over again.
One of the highlights of the trip was the day I left a copy of Shy Violet with a random staff member at Eilean Donan's Castle Café, where many scenes in the book take place. A few days later, on our way back from the Isle of Skye, we stopped once more to eat lunch. The recipient pulled me aside, and in her delightful Scottish accent, said "I've begun to read yer book, and I'm loving it! Ye're a very good author, and I thank ye so much."
The whole time we were at Eilean Donan Castle, I kept catching glimpse of people who looked like Nathan or Violet.
William and Lyndsie, the stars of Sweet William, felt very close to me when we were on Skye – walking around the mysterious Fairy Glen at Uig, watching the cows graze on Claigon Coral Beach near Dunvegan and dipping a toe in the Fairy Pools at Glenbrittle. Because I know what happens to William while he's on Skye, I had a deep, sense of foreboding until we were on our way home, and I knew everything was okay.
There's a magical connection between Scotland and me. I'm a Blue Belle, and always will be. (For those of you who don't know me, I have a B&B and Tea House called the Blue Belle Inn.)
Loving the blue and white Saltire of Scotland is a natural extension of my love of blue.
If you've yet to fall in love with Scotland, I hope you'll pick up a copy of one of my Wildflowers of Scotland novels and see if the highlands and islands of Scotland resonate with you like they do me.
Age old castles and blue-watered bays,
White sandy beaches and quaint cottage stays.
A rainbow of colors and chocolates, hand-dipped,
A valley of bluebells and sheep, freshly clipped.
Legends galore, buried treasure, and more…
In the Wildflowers of Scotland novels, that's what's in store.
Twenty-four years ago, Sherrie Hansen Decker rescued a dilapidated Victorian house from the bulldozer's grips and turned it into a B&B and tea house, the Blue Belle Inn. Sherrie and her husband, Mark, who is a pastor, live in 2 different houses, 85 miles apart. Sherrie writes murder mysteries and novels whenever she's not working at her B&B – or trying to be a good pastor's wife. Her contemporary romantic suspense novels include Night and Day, Love Notes, and Thistle Down, Wild Rose, Blue Belle, Shy Violet and Sweet William, her Wildflowers of Scotland novels.
You can see what's she's up to at: 
https://www.facebook.com/BlueBelleInn
 https://sherriehansen.wordpress.com/
http://www.BlueBelleInn.com or www.BlueBelleBooks.com
https://twitter.com/SherrieHansen
https://www.pinterest.com/sherriebluebell/
Sherrie's new release is Sweet William.
He's a real sweetheart. She's a wee bit tart. When Minnesota farm boy, William McKnight, and sassy Scot, Lyndsie Morris, are forced to work together in the kitchen of Rabbit Hill Lodge, the atmosphere is as charged as an episode of Chopped. Will someone get cut, or will they find a recipe that works? Things just start to get spicy when an angry bull butts his way into the picture, and Lyndsie has to decide if she loves William more than everyone and everything she holds dear.
It's been a whirlwind ever since we returned from Romania about 10 days ago, so this will be short, and I'll let my photos do most of the talking.
In addition to trying to catch up with everything we missed out on while we were gone, and getting back on track at work, my mind is humming with the task of trying to process everything we saw and experienced on our journey.
There's so much to write about that my fingers can't move fast enough. I started working on Sweet William, the next of my Wildflowers of Scotland novels again when we were in Cornwall and Devon, surrounded by British accents and quirky UKisms. My love affair with the British Isles came rushing back the second the roads narrowed to bicycle path width and the hedgerows got so tall that I felt like a rat in a maze.
I will say of our "vacation" that it wasn't very restful. And that's just fine with me. We admittedly kept up a bit of a frantic pace, trying to take everything in, but in retrospect, we wouldn't have traded a second of it in the name of relaxation. Nothing new there! When I was growing up, we had friends that went to the cabin at the lake every summer… the same cabin at the same lake, surrounded by the same people. Not my family. We liked to camp, and would often stay in a different state park every night, setting up camp, tearing down camp, building a new fire to cook over every night. And we traveled all over the state and the United States, and saw so much, and met so many people, and experienced a whole variety of places and things. I wouldn't have traded it for the world. Or maybe I did trade it for the world.
So for those of you who have never caught the travel bug, here's what I like about jaunting about the Great World…
New experiences stretch me, help me to grow, and push me to my limits. I never would have chosen to go to Romania if my stepson, Erik, hadn't moved there 1 ½ years ago, and met his lovely bride, Cristiana.   I never would have believed that I could climb 1000 rickety stairs to the top of Dracula's castle at Bran, Romania, or the watch tower overlooking the medieval city of Sighisoara, Romania or climb down a steep, 70 degree cobblestone-paved descent to the sea at Clovelly, Devon, or see the fabled ruins of King Arthur's birthplace at Tintagel, Cornwall.     But I did it, and I'm so happy that I was thrust into a set of circumstances that allowed me to experience so many memorable things.
Seeing how the rest of the world lives and experiencing their joys and frustrations helps me to reopen my eyes to the beauty in my own back yard, and make me thankful for what I have. Part of it is looking at life through the lens of my camera. Once you start looking for beauty, you see it everywhere, even at home. Once you realize that much of the world doesn't have and can't afford air conditioning and a million other luxuries we take for granted, you realize how blessed we really are.
Fresh inspiration and a renewed perspective gives me a boost of positive energy. It's not that my life in northern Iowa is boring – far from it, but we don't have the seashore and castles and roundabouts and surfing and medieval cities, and face it – never will. I'm glad I live exactly where I do, but I love the burst of creativity and inspiration that I get when I travel to the far ends of the earth.
Colorful new characters, each with their own story, make me want to write a million tales. Here's where I will let my pictures – or rather the people in them – do the talking.
Thanks for listening and looking into their eyes. Here's hoping you have a chance to see the world from a new perspective one day soon, whether it's a different corner of your own little world, or a vast new expanse on the other side of the globe.
We've been saying a lot of goodbyes lately. Last weekend, we drove 350 miles to help Mark's aunt and uncle celebrate 50 years of marriage and to see relatives who came from Mississippi, California and North Dakota for the festivities. It was fun being with them, but then, after just a day and a half, we had to say goodbye.
Yesterday, we celebrated my parents 60th wedding anniversary on the farm where I grew up. For the first time in years, all of their kids, grandchildren and great-grandchildren were together. They came from Boston, southern Brazil, Florida, Indiana, Illinois and Iowa. Cousins from Ohio, Washington, Colorado, North Carolina, Wisconsin and Denmark also came for the fun. What a grand time we had – and then, we had to say goodbye until who knows when. Maybe never, since we're so scattered. And because, sadly, nothing lasts forever.
Today, we're leaving for London, Devon and Cornwall, and then, Romania. It's hard to say adieu to my bed and breakfast and tea house, and the people at church (my husband is a pastor) for three long weeks. I'm already having separation anxiety. Saying goodbye, even for a short time, is difficult for me. That's probably the reason I keep revisiting castles, kilts and stone cottages in my Wildflowers of Scotland novels. I'm just not ready to say goodbye to Rose and Ian (Wild Rose), Isabelle and Michael (Blue Belle), or Violet and Nathan (Shy Violet).
But there are much harder goodbyes to anticipate, and I dread them. A few months ago, we attended the funeral of a family friend whose son was just one year older than I am. We were close in junior high and high school, but have lost touch since he lives far from our home town. After our brief reunion,  when we were saying goodbye, he very candidly said that this was probably the last time we would see each other – with his parents both gone, he has no reason to return to the area. The finality of the moment made me sad, yet it was nothing in comparison to the goodbyes he'd said to his father early that week.
We've had entirely too many funerals lately. This week, another dear family friend passed away. While I believe, as a Christian, that he will be reunited with his family and loved ones again one day in heaven, it's still a hard adjustment to go from being together in the moment, to waiting years – perhaps even decades – to be together again.
When we were dancing and having fun at Uncle Frank and Aunt Pat's anniversary party up north, our six-year-old granddaughter said, "This party is so much fun that I wish it could go on forever." I felt that way yesterday at my parent's party, too.
The thing is, everything in this life is transitory. One party ends, and we say goodbye, and then we're invited to another, and another, and new things spring up from the old. A tree that we've grown to love falls or is cut down, and then, a few months later, there's a wildflower, or a new tree growing out from what's left of the stump. We hope for the harvest in the long cold winter, and then come spring, we plant our fields again.
Knowing that something beautiful will rise from the ashes doesn't make saying those final goodbyes easier, but it does keep us looking up, moving on, and always looking forward to the next party.
So for now – so long, farewell, auf wiedersehen, goodbye. I'm winging my way to Europe, but I'll be back before you know it. And, I promise, we'll party until the sun goes down… or maybe I should say, until the sun rises on a new day.
Sherrie Hansen's Bio:
Twenty-three years ago, Sherrie rescued a dilapidated Victorian house in northern Iowa from the bulldozer's grips and turned it into a bed and breakfast and tea house, the Blue Belle Inn.  Sherrie has also lived in Colorado Springs, CO, Augsburg, Germany, Wheaton, IL, and Bar Harbor, Maine. She grew up on a farm in southern Minnesota. After 12 years of writing romance novels, Sherrie met and married her real-life hero, Mark Decker, a pastor. They now live in 2 different houses, 85 miles apart, and Sherrie writes on the run whenever she has a spare minute. Sherrie enjoys playing the piano, photography, traveling, and going on weekly adventures with her nieces and nephew. "Shy Violet" is Sherrie's eighth book to be published by Second Wind Publishing.
Links:
http://www.facebook.com/SherrieHansenAuthor
https://sherriehansen.wordpress.com/
http://www.BlueBelleInn.com or http://www.BlueBelleBooks.com
https://twitter.com/SherrieHansen
http://www.goodreads.com/author/show/2870454.Sherrie_Hansen
https://www.pinterest.com/sherriebluebell/
Books Titles: Wildflowers of Scotland novels – Thistle Down (a prequel novella), Wild Rose, Blue Belle, Shy Violet. Night and Day, Love Notes, and the Maple Valley Trilogy – Stormy Weather, Water Lily, and Merry Go Round.  
When a poor choice and some wild fluctuations in the space time continuum leave school teacher Violet Johansen stranded in the car park of Eilean Donan Castle in Scotland, Violet wonders if she'll ever find her way back to her comfort zone. She has two choices – to trust a piper who looks exactly like someone she dated a decade ago, or a band of nefarious pirates.   
Pirates.
Pipers.
People – mistakes – from the past that rise up to haunt you at exactly the worst possible moment…
A castle that's been ravaged and rebuilt…
Passion.
Paintings.
People from the past who threaten to tie you down for all eternity.
Can Violet and Nathan's fragile new friendship survive to see love reborn? Or is the past so set in stone that nothing can change it?
Shy Violet.  Is it Violet's turn to bloom, or will the past crush her hopes for the future? Will the promises Nathan made prevent him from enjoying the present he's found in Violet?
"A cool blend of mystery, humor, suspense and romance, and wholly believable, delightfully flawed characters is genuinely enticing in this wild romp through the Scottish countryside with Sherrie Hansen.  Evocative, sensitive, sensible and sweet, these are tales with plenty of action and adventure, making a truly lovely read."  Author Sheila Deeth, on the Wildflowers of Scotland novels
SHY VIOLET by Sherrie Hansen – coming May 1 from Second Wind Publishing
Sherrie Hansen's Bio:
Twenty-three years ago, Sherrie rescued a dilapidated Victorian house in northern Iowa from the bulldozer's grips and turned it into a bed and breakfast and tea house, the Blue Belle Inn.  Sherrie has also lived in Colorado Springs, CO, Augsburg, Germany, Wheaton, IL, and Bar Harbor, Maine. She grew up on a farm in southern Minnesota. After 12 years of writing romance novels, Sherrie met and married her real-life hero, Mark Decker, a pastor. They now live in 2 different houses, 85 miles apart, and Sherrie writes on the run whenever she has a spare minute. Sherrie enjoys playing the piano, photography, traveling, and going on weekly adventures with her nieces and nephew. "Shy Violet" is Sherrie's eighth book to be published by Second Wind Publishing.
Links:
http://www.facebook.com/SherrieHansenAuthor
https://sherriehansen.wordpress.com/
http://www.BlueBelleInn.com or http://www.BlueBelleBooks.com
https://twitter.com/SherrieHansen
http://www.goodreads.com/author/show/2870454.Sherrie_Hansen
https://www.pinterest.com/sherriebluebell/
Books Titles: Night and Day, Maple Valley Trilogy – Stormy Weather, Water Lily, and Merry Go Round, Love Notes, Wildflowers of Scotland novels – Thistle Down (a prequel novella), Wild Rose, Blue Belle, and Shy Violet
Okay – I'll be honest. Part of the reason I write contemporary romantic suspense as opposed to historical is that I don't have the time or inclination to do research. It's not that I don't enjoy history or investigating the past. And it's not that I'm lazy – really. It's simply that I'm already stretched so thin that I simply don't have time. I own and operate a B&B and Tea House called the Blue Belle Inn, and I'm a pastor's wife in a different town, 85 miles away. I play the piano at church with a traveling band of musicians, and I'm very involved in the lives of my family. I write on the run whenever I have a spare second, often with my laptop propped on the door of the glove compartment while my husband drives us between our two homes. If I had to stop and do extensive research on a specific time period or worry about maintaining historical accuracy, I'm convinced I'd never finish anything.
To keep things simple, I try to write about locations I've been to or lived in, and occupations or fields I've worked in or been trained to do. I'm less likely to make silly mistakes that way. I've had characters who are Realtors (I'm licensed in the state of Colorado), interior designers, quilters, farmers, pastors, home renovators, and business owners in Minnesota, Iowa, California and Colorado – all things and places that are intimately familiar to me. No matter – it still takes an immense amount of time to research and validate facts, even for familiar scenarios.
Part of the problem is that my characters somehow seem to acquire minds of their own. Tommy Love giving up on building his dream house in northern Minnesota and buying a beachfront property in central California in "Love Notes" is one good example of a character who went traipsing off in different directions, pulling "my" story and stretching "my" plotline to include things that I never would have thought of on my own, and attempting actions and activities I'd never dare try. What could I do? I was invariably forced to follow his lead, searching for those tidbits of knowledge I was lacking to keep the story grounded and authentic.
When I started writing "Blue Belle", I had never been to Tobermory or the Isle of Mull, or even Scotland. When I finally set foot on the island, I had a strange sense of déjà vu because I was already so well acquainted with the place via the internet. One night, while I was sitting on a bench near the harbor, a woman walked by that looked exactly like I'd always envisioned Isabelle, my main character. It was eerie! I also had to change an entire scene that had Isabelle blithely scooting around Mull on her bicycle when I discovered how hilly the island is. It's a very steep climb from the harbor street to the top of the hill where our B&B was!
Scoping out a location is only the beginning. I spent almost an entire day researching European chocolates for Blue Belle. When I was in Mull, I even had to go to Tobermory Chocolates to taste their famous Rose and Violet Cream Chocolates. You know, so I could describe them accurately. I had to take tea at the Willow Tea Room in Glasgow, try Victoria Sponge with buttercream and berries and Mini-Battenbergs layered with almond paste, moist cake, and apricot jam, and sample Sticky Toffee Pudding with Caramel Whiskey Sauce.  Not that it stops with the sweets. I had to taste pub grub – things like Cumberland Mash and Cottage Pie with  Thatched Roof  and Smoked Haddock Pie with Mashed Potatoes – at locations all over Scotland. And, I had to stay at several B&B's so I could experience an authentic Scottish breakfast. Yes, we authors are forced to spend our time laboring over many such unsavory tasks. I spent a huge amount of time looking for Scottish slang, phrases, and speech idioms that would define and give depth and reality to my characters and their conversations, yet be understandable to the average American reader. I researched castles and keeps, Cromwell's practice of slighting, and the art of building with stones in both Scotland and Oconomowoc, Wisconsin.
Isabelle is a journalist, so part of my research involved investigating the facts behind each of the stories she was working on in the book, from Mad Cow and hoof and mouth to puffins and vultures, a Celtic bathing pool, and the centuries-old gold some people believe is still buried on a sunken Spanish galleon in Tobermory Bay.
The thing I like least about research is that I've already learned some things the hard way, which, sadly, means I already know everything I need to know about them without doing a single Google search. The thing I love most about researching is that once you start looking for specific answers to certain questions, you discover amazing things that lead you in completely new directions that then become fodder for your plot, and on and on in an explosive chain reaction of knowledge. It's fascinating!
One of the things I've always loved about reading books is the new worlds that are opened up to me as I see a place or situation through the eyes of each character. Being an author has stretched me even more. Research can seem like a necessary evil at times, and a thrill at others. But no matter how hectic my schedule is or how bad my attitude about having to jump out of the story and take the time to chase down facts and figures, research is a great opportunity to learn more things, broaden your perspective, and see the world in a different light.