You are currently browsing the category archive for the 'wildflowers of Scotland' category.
No this isn't an advertisement for essential oils – but when I received an email from Young Living about Goldenrod, I couldn't help but make some comparisons with my book Golden Rod. Their article opened with, "A bag of gold bullion or a bottle of Goldenrod? You'd think the decision would be an easy one, but fans of the oil would disagree…"  Words like, "
priceless, hands-down one of our most popular oils, worth the wait, loved by men and women alike for its grassy, bittersweet aroma and long list of benefits, from elevating your skin care routine to amping up a romantic vibe," made me think of my Golden Rod.
From a 5 star review of Golden Rod on Amazon: 
As a fan of Outlander and, well, men in kilts in general, I was eager to crack the virtual spine of this Scotland based contemporary romance. Our heroine, Katelyn O'Neal, has found herself by way of inheritance, the proud owner of a real life Scottish castle. Perfect, since she needs a ton of money and fast, in order to pay for an experimental cancer treatment that will save her twelve-year-old niece's life. All she has to do is fly to Scotland, make a few arrangements, and be on her way. Not even the charms of Golden-Haired, Most Fair, Prince Rod of Lachlan, or Rod MacKenzie as he's known in social circles, will sway her from her goals.
However, a pair of ghosts are hanging around, having been cursed to haunt the halls of Lachlan until a first born MacKenzie male inherits the castle. After 500 years, they're tired of waiting, and with the sale of the castle pending, they must use drastic measures to see that their curse be broken.
This story was full of well-developed characters and spectral shenanigans that had me cheering and boo-hissing at all the appropriate moments. One of those rare books that kept me up way past my bed time. I'm looking forward to reading more from this author.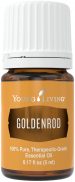 What is Goldenrod essential oil used for? Excerpts from the following list from YL draws more parallels  between their Goldenrod and my Golden Rod to mind:
1. Brighten your outlook. Add some positivity to your day with the scent of Goldenrod to sweeten extra-special moments.
2. Deepen your massage. Soak in the relaxing scent and reconnect with your partner by giving each other a massage for a romantic night in.
3. Make bedtime the best time. Enjoy its earthy aroma as you drift off to dreamland.
4. Go for the bold. Use Goldenrod to create a pleasant, masculine scent for men for a calming personal fragrance.
5. Make a great first impression. Nervous about meeting someone new? Let the relaxing aroma help calm those first-date jitters. 
6. Drench your skin in hydration. Add a drop to your moisturizer for smoother, irresistibly touchable skin.
7. Cuddle up with your true love. Create a cozy night in with the unifying blend of Goldenrod. Planning a romantic getaway? Combine your natural charm with Goldenrod for a truly memorable weekend.
If I haven't convinced you yet, here's another review of Golden Rod:
Wonderful! I thoroughly enjoyed this novel by Sherrie Hansen. I found it to be a sweet comical romance. What started out as an untimely and unwanted involvement between strangers blossomed into an unforgettable journey and romance… I loved the way that Scottish lore and legend was crafted into this modern day romance. I loved the way that the history of the Scots and the culture from Scotland was crafted into this story.
Hansen did a fantastic job making the words fly off the page. The world she created came to life and felt real, as if I was really there with the characters, seeing, feeling, and wanting everything they did. Bravo!
I think this reviewer captured the essence of Golden Rod, too:
A Legend Relived through Modern Day Romance:  A wonderful retelling of a Scottish legend through romance. The storytelling is beautiful and describes the beauty of Scotland in a way that will make you contemplate checking tickets for visiting the enchanting country. Through the story of Katelyn and Rod the author shows the fears and struggles we face daily. Katelyn as a character shows our aspect in the modern world, detached, cold and self centered at times. Preoccupied with her own problems she is not aware of anything around her or how her actions affect others. On the other hand through Rod we see the honorable, compassionate side of us. His love for Scotland is something that brings the realistic aspect in the story. His pride in his heritage and the land he calls home is something we can easily understand and with every right. His personality and love melt the walls Katelyn has built around her heart. I was truly impressed with the story and I'm looking forward to reading the rest of the books from this author.
And one more of my favorites – a review from the UK:
Heavenly Tale – This was such an enjoyable book to read as my fascination and love of Scotland is parallel to the authors. I am intrigued by castles and the folklore concerning ghosts, and this story had everything – passion, romance, and history – entwined with the beauty of the atmospheric lochs and mountains. The ghosts were particularly likeable – in every sense possible; be prepared for a little flutter. Brilliantly paced, expertly written.
With that, I'll leave you to draw your own conclusions – is Golden Rod right for you? If you haven't already read it, I hope you'll give it a try and see if you enjoy the essence of Golden Rod. If you have, I'd love to hear your thoughts!
Some of you know that I lived in Germany for three years when I was younger. I traveled throughout Europe when I was there and soaked up as much of the local culture as I could. I loved living in Europe so much that part of me didn't want to come home. Those years helped shape the person I am today in many ways, both good and bad, and provided the inspiration for several of my books.
I've always believed that I inherited a good dose of wanderlust from my Danish ancestors. When we went on family vacations, my Dad loved to drive down random roads just to see what he would find. I'm a little more structured about what places I go and what I hope to see when I'm there, but just like my Dad, I love stumbling upon quaint places and unique sights.
My husband also shares my love of traveling and exploring. That's why we try to get away on a long vacation every year. This year, we're headed to Czechia. Some of our friends go to the same cabin on the same lake or the same cabin in the same mountain valley every weekend, summer, or year. We like seeing new things each time we go. We've also been told by numerous friends to travel while we can, that the window of opportunity when folks have the good health, time and money to travel is narrow and short-lived.
Maybe you're at a time in your life when you can't see the world due to whatever restraints keep you tied to one spot. If so, I'd like to invite you to take a vacation in your imagination. Open a bevy of books and you can read your way around the world. 
Start by reading NIGHT & DAY or DAYBREAK (by Sherrie Hansen, of course) and experience Copenhagen, Northern Minnesota, Prince Edward Island, the Mississippi River Valley, and The Faroe Islands.
Next, why not try Scotland? You can visit Loch Awe, Glasgow, and Tobermory, Scotland in THISTLE DOWN (a prequel novella,) and WILD ROSE, the first of my Wildflowers of Scotland novels.
The lovely Isle of Mull, home of the colorful Tobermory harbor and Duart and Glengorm Castles, Alsace Lorraine, and the French Riviera are featured in BLUE BELLE.
If the highlands call out to you, you can see the Isle of Skye and Eilean Donan Castle in SHY VIOLET  and SWEET WILLIAM.
Picturesque Loch Carron, Scotland is the setting of GOLDEN ROD. I love it there so much!
Maybe you just want a short vacation to someplace cool with lakes and forests galore like the Northwoods of Minnesota. Duluth, Ely, and Embarrass, Minnesota  are featured in LOVE NOTES along with Harmony, California on the Central Coast.
Are you getting the feel for how far you can go just by cracking open a book? Depending on how fast you read, and how many books you devour in a few days time, you can see the world for less than $20 a week.
My next book, SEASIDE DAISY, is set in Ireland on the Dingle Peninsula. Ever since I visited Dingle and Killarney three years ago, I've been trying to recreate the feel of the place with my words so you can see it through your eyes.  This week, I attended a Songwriting Workshop and wrote a song called Seaside Daisy's Shanty. I hope it puts you in the mood to visit Ireland when SEASIDE DAISY comes out this fall.
Seaside Daisy's Shanty by Sherrie Hansen
In the meantime, I'm dreaming about a new book called PLUM TART IRIS set in Czechia, and one after that I think I'll call COMMON PRIMROSE, set somewhere in Europe. None of us knows exactly what the future holds or where our journey will take us next, but I hope you'll continue to follow my travels via my blog and Facebook, and accept my invitation to read my books.
The world is waiting!
Twenty-eight years ago, Sherrie Hansen rescued a dilapidated Victorian house in northern Iowa from the bulldozer's grips and turned it into a bed and breakfast and tea house, the Blue Belle Inn. Sherrie grew up on a farm in southern Minnesota and has lived in Bar Harbor, Maine, Colorado Springs, CO, and Augsburg, Germany. She attended Wheaton College, Wheaton, IL. After 12 years of writing romance novels late at night when she couldn't sleep, she met and married her real-life hero, Mark Decker, a pastor. Sherrie lives in 2 different houses, 85 miles apart, and writes on the run whenever she has a spare minute. With her Wildflowers of Scotland novels, "Wild Rose", "Blue Belle", "Shy Violet", "Sweet William" and "Golden Rod", and her new release, DAYBREAK, the sequel to NIGHT & DAY, she has eleven books in print, most featuring a "second-chance-at-love" story. Sherrie enjoys painting, playing the piano with the worship team at church, photography, decorating historic homes, and traveling. You can learn more about her books by visiting  http://amazon.com/author/sherriehansen
Spring has finally started to poke its head out of the long-frozen ground. Maybe that's why I'm in the mood to tie up winter's loose ends and move on to new adventures. By this time most years, we're deep into planning our summer vacation, with reservations made and dreamy visions of B&Bs and castles and seaside villages floating through our minds as we await May, when we usually depart for our destination.
We've always found February snowstorms to be a good time to plan our travels, but this year's schedule is a bit off because my husband just returned from a tour of the Holy Land.  We both went to Arizona for a conference in January, and now that Mark has had a second "working vacation" already this year (Mark is a pastor, so Israel was a great way to continue learning more about the Scriptures and walk in Jesus' steps), we decided to wait to take our next outing until late August and early September.  And because his trip to Israel earned him enough frequent flier miles for a free ticket to Europe, we delayed buying our tickets until he returned.
So here I am, starting to think about Prague and the Czech Republic, the Bohemian Paradise, Alfons Mucha's paintings of Slavic maidens, spa resorts and quaint countryside villages, and folklore and grape harvest festivals,  and I just realized I never did a final post about last year's trip to Scotland.
The bit I left out was Kilmartin, on the far west side of Scotland, and it's simply too significant a place to ignore. Of all the places we visited, it was the most restful and remote, far off the typical tourist trail. Our B&B was private and plush, a very respite for our travel weary souls, and walkabout backs, hips and feet…
After nearly three weeks on the road, and the trauma of our car hire incident, we truly felt pampered in Kilmartin Glen.
Crinan Bay was just a few miles away from where we stayed, and we delighted in watching the sunset over the sea.
It will be different visiting a landlocked country on the mainland of Europe this year. I truly love Scotland's little harbor towns.
The ancient history and evidence of civilizations past surrounding Kilmartin Glen was fascinating.
Standing stones and burial chambers and Celtic graves and prehistoric rocks carved with Pictish runes… the glen was full of preserved sites to explore.
Footprints of ancient kings and beautiful views of hills and valleys all made for amazing explorations.
But the thing I liked most was the peaceful aura surrounding the glen.
We were sad to leave, yet eager to get home.
A few quick stops at a new-to-us historical village, a beloved garden we discovered two years earlier, and one of our favorite castles, and we were once again following the shores of Loch Lomond back to Glasgow, ready to go home.
To Bonnie Scotland! To tying up loose ends! To new beginnings! So, until next time, you know where to find me, and where my heart remains.
Twenty-eight years ago, Sherrie Hansen rescued a dilapidated Victorian house in northern Iowa from the bulldozer's grips and turned it into a bed and breakfast and tea house, the Blue Belle Inn. Sherrie grew up on a farm in southern Minnesota and has lived in Bar Harbor, Maine, Colorado Springs, CO, and Augsburg, Germany. She attended Wheaton College, Wheaton, IL. After 12 years of writing romance novels late at night when she couldn't sleep, she met and married her real-life hero, Mark Decker, a pastor. Sherrie lives in 2 different houses, 85 miles apart, and writes on the run whenever she has a spare minute. With her Wildflowers of Scotland novels, "Wild Rose", "Blue Belle", "Shy Violet", "Sweet William" and "Golden Rod", and her new release, DAYBREAK, the sequel to NIGHT & DAY, she has eleven books in print, most featuring a "second-chance-at-love" story. Sherrie enjoys painting, playing the piano with the worship team at church, photography, decorating historic homes, and traveling. You can learn more about her books by visiting  http://amazon.com/author/sherriehansen
Thank you to Annie at the Editing Pen for inviting me to write a post about Scotland.
As a hostess gift, I'd like to present Annie with a weekend stay at Blair Atholl Castle on the occasion of their annual Highland Games followed by a week at Uig Sands Hotel on the Isles of Lewis and Harris which includes a chance to walk amongst the nearby Callanish Standing Stones. If she carries a bouquet of goldenrod for good luck, perhaps Jamie Fraser will be waiting for her on the other side… Many happy returns, Annie!
As fans of Outlander know, most books set in Scotland revolve around highlanders, kilts, and keeps. My Wildflowers of Scotland novels (Thistle Down, a novella, Wild Rose, Blue Belle, Shy Violet, Sweet William, and Golden Rod) are modern-day mixtures of romance and suspense with the Scottish countryside as a backdrop.
They're also colorful tales, rich in symbolism of wildflowers.
There are plenty of dark, misty vales, cold, stone castles, and drab, colorless cottages scattered through Scotland. What I love most about the wee wildflowers of Scotland is that they provide the perfect bit of contrast, a much needed dash of color to an otherwise harsh landscape. I hope you can see the Scotland I love in the bouquet of wildflowers I've picked for you.
THISTLE DOWN – A common, prickly, purple thistle saved the day when an Englishman doing reconnaissance stepped on a particularly thorny specimen and let out a howl, alerting Scottish guards to an imminent invasion by the English. We can all be a bit oblivious at times, especially when we're up against hard rock on one side and well, hard rock on the other side, too. There's nothing like the sharp bite of a prickly plant to make you appreciate what you have and see the beauty in your own backyard.
Such is the premise for my novella, Thistle Down when tenderhearted Pastor Ian MacCraig tries to keep a pair of prickly sisters from marrying the wrong men. Emily Downey has found the perfect groom. If only she loved the man… Chelsea Downey is wild about her boyfriend. Trouble is, he's two-timing her and everyone sees it but her. Their thorny situation gets even stickier when the church ladies come up with a plan. Can Pastor Ian MacCraig weed out the thistles and get to the heart of the matter in time to save the day?
WILD ROSE – Wild roses symbolize perfect happiness, love at first sight, joy and gladness, and happy, forever love. Like other wildflowers, they're hardy, stubborn and determined to find a foothold whether they be planted atop a stone wall, set amongst ruins, or left to fend for themselves along the side of the motorway. But even the sturdiest of wildflowers can be trampled on when their generous hearts are abused by ones not so honest or caring.
Such was the case when Rose Wilson learned that Digby, the online friend she met for what she thought was a harmless rendezvous, was a common criminal. Enter Pastor Ian MacCraig, who is trying to capture the thief who is stealing artifacts from his kirk (Saint Conan's on Loch Awe, Scotland.) The last thing he expects to find on his video is a woman engaging in a passionate romp under the flying buttresses. Rose is mortified and the church ladies are appalled to learn that Pastor Ian, the board of Wilson Enterprises, the constable, and half the town have had a glimpse of Rose half naked. What remains to be seen is how far Ian will go to defend Rose's honor and if the church ladies will forgive Rose now that they know who she really is… and if Rose can believe she's worthy of someone as good and kind as Ian MacCraig. Are Wild Rose and Pastor Ian MacCraig a match made in heaven or one hell of a predicament?
BLUE BELLE – Bluebells are one of my favorite flowers. The first harbingers of spring, they're known for their humility, kindness and constancy. They're as down-to-earth as my characters, and like any springtime bloomer, all the sweeter because you have to endure a bit of weather each year before they return.
Just as bluebells hide in off-the-beaten path forest glens, Isabelle has traveled to the ends of the earth to try to escape her past. Psychologist Michael is also hiding out, as far removed from his relatives and his practice in Wisconsin as he can get. When Damon starts searching for the centuries-old gold he thinks is buried at Tobermory Bay, it won't matter what walls Michael and Isabelle think they are hiding behind. Rocks will fall. Castles will crumble. No secret will be safe. Set in colorful Tobermory, Scotland, on the Isle of Mull, it becomes very clear in Blue Belle that timing is everything – and that sometimes, you just have to jump.
SHY VIOLET – Eilean Donan Castle, near Dornie, Scotland, is a modest castle – not as big, old, nor fancy as many, Eilean Donan is subtle and understated as castles go. Perhaps that's why it's grown to be so iconic. In Scotland, it's "aboot" the simple, everyday things of life, pleasures born both of need and necessity. That's why, if you keep your eyes open, you're sure to see majesty galore in nature's quiet offerings… a shy violet hiding behind a rock, a blush of heather in the hills, a splash of rhododendrons growing deep in the woods.
Maybe that's why shy Violet has been so long overlooked in her search for true love even though her name signifies that her thoughts are occupied with the fanciful notion. Violet has always put great stock in the virtues of modesty and faithfulness – particularly faithful love. But that ship has sailed right along with the pirate boat Violet jumped aboard, thinking she could hide from a string of bad decisions in her past. Violet didn't even know Nathan existed when she inadvertently met his father and ruined any chance of a future with his son. But part of the violet's essence is to take a chance on happiness. No one knows what will happen when Violet meets a bagpiper whose music spans the centuries in front of a castle with a troubled history. But is Violet fleeing the present only to collide with the past?
SWEET WILLIAM – Sweet William is equated with gallantry, childlike awe, and the sensation of getting lost in a whole new world of wonder and enchantment. William McKnight is a true sweetheart, and as gallant a man as you'll ever see, always ready with a smile. From Lyndsie Morris's tart, hardscrabble childhood, there has gown a spirited flower with character and determination and a true appreciation of the things that really matter in life.
But when Minnesota farm boy, William, and sassy Scot, Lyndsie, are forced to work together in the kitchen of Rabbit Hill Lodge, the atmosphere is as charged as an episode of Chopped. Will someone get cut, or will they find a recipe that works? Things just start to get spicy when an angry bull butts his way into the picture, and Lyndsie has to decide if she loves William more than everyone and everything she holds dear. Set in the Highlands near Eilean Donan Castle, on the Isle of Skye, and in volatile Minnesota, they face the harshest of conditions. Will their love take hold and bloom or will stormy weather crush the romance that's blossoming between them?
GOLDEN ROD – Goldenrod flowers are thought to hold many symbols – from caution to encouragement, luck to good fortune. Superstitious folklore advises people to carry a bouquet of goldenrod flowers when seeking out treasure or venturing forth on new, but risky, ventures.
All of these themes and more are explored in Golden Rod as the reader gets to know Lachlan—a centuries old castle overlooking Loch Carron, Scotland; Kacie—a twelve-year-old girl whose dying wish is to see it; Laird Valan and Lady Rosemary MacKenzie—500-year-old ghosts who desperately want to escape it; Golden-Haired, Most Fair, Prince Rod of Lachlan—the rightful heir who wants to live there happily ever after; and Katelyn O'Neal—the well-intentioned but clueless legal heir who's about to pay a high price for selling Lachlan to a lowlife scum. Golden Rod is a two-week romp through a lifetime of legends and risky ventures, of bad luck and old curses turned to golden wishes. Rod MacKenzie is a gentle gardener and sometimes sailor born of adversity, and so much more lovable than Buck, the arrogant showoff who now owns the castle. How similar to the way of Scottish wildflowers – blooming not in showy profusion, but cropping up here and there in solitary clumps to bloom wherever there is a bit of fertile soil.
If you're a lover of wildflowers – wherever they blossom – and most particularly, Scotland, you'll find the quaint surroundings – and the pirates, pipers and tales of days past that are part of Sherrie Hansen's novels – to be fascinating. I encourage you to clutch a bunch of goldenrod and take a risk – try a new author!
~~~
Twenty-seven years ago, Sherrie rescued a dilapidated Victorian house in northern Iowa from the bulldozer's grips and turned it into a bed and breakfast and tea house, the Blue Belle Inn.  Sherrie grew up on a farm in southern Minnesota and has lived in Wheaton, IL, Bar Harbor, Maine, Lawton, OK, Augsburg, Germany, and Colorado Springs, CO. After 12 years of writing fiction, Sherrie met and married her real-life hero, Mark Decker. Mark and Sherrie divide their time between a cottage in St. Ansgar, and the parsonage where Mark serves as pastor. Their two houses are 85 miles apart, and Sherrie writes on the run whenever she has a spare minute. In her "free time", Sherrie quilts, makes music on the piano, plays with her camera, renovates old houses, travels to the far off corners of the world, and goes on weekly adventures with her nieces and nephew. Her new release, Daybreak, is her twelfth novel to be published by Indigo Sea Press. Sherrie's books have been called "the thinking woman's romance" and her latest books also contain elements of suspense. While many of Sherrie's books contain issues of faith and family, some also include "steamy" scenes, and some, a candid combination of both. Most are "second chance at romance" stories with primary characters aged 30 to 50. Many of Sherrie's books contain at least one special quilt.
Links:
http://www.facebook.com/SherrieHansenAuthor
https://sherriehansen.wordpress.com/
https://www.amazon.com/Sherrie-Hansen/e/B007YXQJ4W
http://www.BlueBelleInn.com
https://twitter.com/SherrieHansen
http://www.goodreads.com/author/show/2870454.Sherrie_Hansen
https://www.pinterest.com/sherriebluebell/
Books Titles: New Release:  Daybreak, sequel to Night & Day, Wildflowers of Scotland novels – Thistle Down (a prequel novella), Wild Rose, Blue Belle, Shy Violet, Sweet William and Golden Rod, Love Notes, and the Maple Valley Trilogy – Stormy Weather, Water Lily, and Merry Go Round.
It was like 2007 all over again. Not wanting to deal with "big city" traffic, congestion and parking hassles, we drove through Inverness as quickly as possible and retreated to the Scottish countryside, this time, on a farm high in the hills overlooking the Moray Firth. After learning how much there is to see and do in any given area on our previous trips, we tried our best to stay at least two nights in the same place. It's far more relaxing not to have to pack up and move every single day.
Our countryside view was amazing. The next day, we headed away from Inverness toward the small town of Beauly. There were several wonderful shops in Beauly, a bank where we were able to exchange more dollars for pounds, a nice restaurant where we enjoyed a high tea, and a great fish and chips place.
From Beauly, we went on two nice drives – the first took us to the narrow end of the Moray First, across a bridge and up the other side. We had a lovely hike along the coast at Chanonry Point, where we missed seeing seals but found a lighthouse and wild roses and Queen Anne's lace blooming along the rocky beaches.
A few miles further down the road, we found a small National Trust property that had a delightful garden and a thatched roof house that was the home of Scottish local hero, Hugh Miller.
His story was fascinating and we related to it on several levels. He believed in Creation and had an extensive collection of fossils.
From there, we headed south through a shady mountain pass to Loch Ness. Once again, Urquhart Castle was closed by the time we got there, so we took a few photos from a distance, watched for signs of Nessie rippling in the blue waters and drove home along the shore.
Our B&B for those two nights just west of Inverness was on the first floor of a new house, with a private entry and a very comfortable bed. The sunsets both nights were beautiful, but the midges were starting to bite and came out at sunset. I did a dance as I walked through the grass, snapping and moving and snapping and moving, hopefully fast enough to avoid having a midge land on me.
The next day, we set out to see my Scottish friend, Ang, in Balintore, a seaside village north of Inverness. The fog seems to settle in each night, and it hadn't yet lifted as we walked along the shoreline, talking. Two years ago, Ang used the word "atmospheric" to describe the misty air hugging the sea, and I will forever think of the word when I encounter foggy landscapes. We exchanged treasures and good conversation – a definite highlight of the trip!
After lunch, we left the east coast of Scotland and were off  to Ullapool, on the west, when we decided to detour down to another Historic Trust property. As Trust members, we love seeing these properties "for free".
I've heard from many people that they're always amazed at how much we managed to see in one short day. What they may not realize is that everything is so close – the most we drove in a day was 100 miles. It's also daylight from 4:30 a.m. to 10:30 p.m, so if you get up at a decent hour, you can do a lot before dark.
This is one of those days that we stretched things a little too far. Everything would have been fine except that we reached Inverewe Garden about 5:30 p.m. Last entrance was 6 p.m., but the gates to the garden were open until 8 p.m., so we had plenty of time to explore. The sky was blue, but there wasn't a breeze to be found, and the midges surrounded me in swarms.
Dense forests were crisscrossed with mazes of paths and steps that wound through rhododendrons, bamboo and perennial gardens and eventually, out to the sea. Before long, I was swatting and itching and breaking out in blistering welts. But it was so beautiful, and we got in for free, and…
The only solution was to walk faster and faster. If I was capable of running up and down rickety, stone stairways that didn't have handrails, I would have. What can I say? I'm glad we saw the gardens – they were lovely, but I'm not sure the itching and oozing I went through for the next week was worth it.
The sun started to set on our way to Ullapool, and we arrived just in time to see sunbeams shining over the harbor. We found our room at the top of an extremely steep hill overlooking Morefield Brae.  What a beautiful setting! But alas, as we climbed out of the car, our host warned up to enter quickly and close the doors behind us because the midges were really biting.
Great. While we settled in, our hosts at the Fair Morn B&B found a restaurant with openings for 8:45 p.m. We were seated in a conservatory facing out to the garden and left to choose from a wonderful menu. All was well until we started to notice we were itching even more than we had been earlier. Then we noticed a small window open at the top of the wall. Suddenly, we were caught in a swarm of midges. But the time we caught the eye of our waiter and asked to be reseated in another room, the damage was done.
In the morning, we headed north along the brae and into the mountains where we were treated to castle ruins, sheep grazing, red deer running along the hilltops, and altogether amazing scenery.
We stumbled on a craft fair and a pie place at Lochinver and then took a narrow winding road to Achmelvich Beach with its white sands and aquamarine waters. When I heard about the beaches in Scotland, I assumed it would be like California in January, with crisp temperatures and cold winds even though it would have the appearance of being summery. But the day was perfect for beach-going, in the mid 80s, and we had a picnic with the meat and fruit pies we'd nabbed at the pie place in Lochinver.
By that time, however, I felt like I had a beacon on my back that said "Bug Bait." There were bugs in the sand, and bugs in the rocks – but unlike midges, these were big, and could be seen, and felt, and they seemed to be going for my eyes, and anywhere my midge bites were oozing and itching. Yikes! I don't mean to sound negative, but it was not exactly a relaxing day at the beach.
We ended the day back in Ullapool, where we ate at an upscale fresh seafood shack and found a handmade woolen treasure at a local craft shop. I walked as fast as I could everywhere we went to fend off the midges who were waiting to land. They seemed to get sneakier as time went by, burrowing under my clothes and biting my back and thighs, under my hair and hat. Nothing dissuaded them.
I had a hard time sleeping that night because I was so hot and itchy, but there's always a bright side… We had a delicious Scottish breakfast to look forward to and a forecast of calm seas for our three hour ferry ride to the Isle of Lewis and Harris. And someone told me that there were no midges on Lewis or Harris because there was always a good breeze blowing. Music to my ears…
We headed to the Highlands on the next jaunt of our Scottish journey. In some ways, driving into the Highlands reminds me of when I lived in Colorado Springs and occasionally ventured up to Breckenridge or Estes Park. The higher the altitude, the more pine trees and mountain peaks, the more athletic pursuits and other activities geared toward tourists, and the more cute mountain resort towns with large hotels. But as usual, we skipped all that and sought out a quiet, countryside location away from the crowds.
We spent three nights in a cottage near Aberfeldy, Perthshire – one of our favorite places on earth. We could see J.K. Rowling's summer house across the glen from where we were staying, which tells you there is something magical about the spot. The views were incredible, and we loved watching the sunset while walking down the lane with the owner's English cocker spaniels in tow. There were plenty of flowers to smell and benches to sit on while scratching the dogs' ears and rubbing their tummies. I felt right at home and loved hearing sheep baaing and a rushing stream while we laid in bed each night.
Our cottage had its own little kitchen, and most of the eating establishments we had hoped to visit were closed for the holiday weekend, so we visited the grocery and stocked up on some goodies for breakfasts and picnic suppers. Mark makes great omelets which were wonderful with rashers and bangers (bacon and sausages).
I was delighted to find the woods around Strathtay still abloom with bluebells.  Mark played a couple of holes of golf while I walked in the bluebell wood. Then, our excitement turned to disappointment when we wandered into town and found that the art gallery on the main square where I bought a painting of Menzies Castle by Artist Audrey Slowrance was now a real estate office.
After looking wistfully at the listings and feeling more than a little tempted to invest in a piece of Scotland, we finally tracked Audrey down in her new studio in a garage and bought a couple of her lovely prints. It made my day to get to talk to her about painting and what inspires her. How I wished I'd had my paints and a couple of canvases tucked in my suitcase!
We also attended the Highland Games and Fair at Blair Atholl Castle, where once again, we had the thrill of seeing the Atholl Highlanders march to the tune of bagpipes and drums. Be still my heart! A walk through Diana's Forest, which has some of the tallest trees in Great Britain, was restful and quiet after the boisterous sounds of the crowds cheering on the brawny competitors, graceful Highland dancers and talented bagpipers at the Highland Games.
Our last day in the Aberfeldy area, we followed a narrow, winding, mountainside road to Glenlyon, where there's a tiny post office in the middle of nowhere that's famous for its desserts. The waitress' young daughter, who invited us to sit with her, entertained us while we had a bowl of leek and potato soup, crusty, homemade bread with butter, and pudding… well worth the slightly hair-raising drive along a single track road with too few passing places.
On the way home, we took a new road to Kenmore, a village along Loch Tay that we'd seen featured in several of Audrey's paintings, and happened upon a delightful spot. We were looking for a loo when we overheard a desk clerk at the local hotel mentioning that Rick Steves' tour bus would be arriving any minute. Being fans of his TV show, we waited around for a glimpse, took a photo, and gloated because we have such a keen knack for sniffing out desirable locations.
The next day, it was time to head north to our next destination, Ben View House at Lentran Farm, in the countryside near Inverness, where we had two nights booked. On the way, we had two significant experiences. The living Highland Folk Museum had miles of wonderful examples of how the Highlanders lived and built their homes. We learned that several scenes from Outlander had been filmed in the blackhouse village, and I have to admit it was a thrill to walk where Jamie, Claire and Dugall had. The smell of a peat fire wafting in the air, hand woven linens and many authentic touches made history come to life.
After another bit of driving, we had a bit of trouble locating the Kilted Fudge Company in Aviemore, but our minor detours were rewarded with an enthusiastic greeting and our own personal tasting of over a dozen of their creamy, buttery fudge flavors. After stocking up on oodles of my favorite (Clootie Dumpling fudge, which is not too sweet, and packed with gingerbread spices and raisins), and a few new varieties like Rhubarb Cream, Salted Caramel and Millionaire's Shortbread, we headed on through the mountains.
As we were coming into Aviemore, I spotted a sign that pointed to a Mountain Railway, which of course, made me think of my dad, whose favorite song was Life is Like a Mountain Railway. But then, these days, everything makes me think of him. Last year, when we left for Ireland and Wales, he was in the hospital with pneumonia, and we weren't sure what would happen while we were gone, so we called him every night about midnight to tell him about our day. This year, over and over again, I found myself thinking, Dad would love this. I'll have to tell him about it when we call him tonight. How I wish I could, but for that, I'd need a Railway to Heaven.
I'll end on that note. Vacations are a wonderful way to relax and forget your troubles, but being free from a hectic routine also gives you more time to remember… and think…
Stay tuned for our trek northward and westward, ho…
Late summer is a golden time of year. Fields and ditches are full of goldenrod, tansy and black-eyed Susans blossoms shining bright in the sunlight. Springtime blues, lavenders and pinks gradually give way and are outshined by the yellow gold hues of early fall.
… Just one reason why late summer is the perfect time to read Golden Rod, my latest Wildflowers of Scotland novel.
When I first chose to name my new book Golden Rod, I had a flurry of people tell me that they were allergic to goldenrod, and associated  the flower with sneezing and feeling like their head was going to explode.
My research shows that allergies to goldenrod are very rare, since it is not airborne, and that people who suffer allergy symptoms this time of year are more likely affected by ragweed, which blooms at the same time.
Although I can truly promise you nothing by pleasant sensations if you read Golden Rod, this brings me to a related topic – why some of you think you are allergic to reading romance novels. Here are some of the reasons I hear from romance reading skeptics:
Fallacy #1:  Romance novels are for women. I'm a guy.
My Response:  Don't let my flowery titles fool you. My novels all have two perspectives, two point of view voices – one male and one female. My books are not about women living in a fantasy world – they're about men and women struggling along in a very real world. Their differing attitudes, perspectives, feelings, needs and approaches to problem-solving provide my books with stimulating conflict, movement within the plotlines, and differences of opinion. I've had many men tell me how much they enjoyed my books, and one couple who even argued over who got to read it first.
Fallacy #2:  Romance novels are shallow, dumbed down versions of the literary novels I enjoy.
My Response: A reviewer who's a very intelligent mathematician called my novels "the thinking women's romance." Doctors, lawyers, and professors have written telling me they enjoyed my books. My characters are complex and my novels include complicated situations and scenarios worthy of readers who like books that stimulate their intellect and emotions.
Fallacy #3:  I like action and adventure novels, thrillers and mysteries.
My Response: Today's romance novels can and do include all of the above. My books have included murders, sex-crimes, scams, thefts, kidnappings, and all kinds of deceitful goings on. They also include romance, but love definitely isn't the only thing between the covers (no pun intended).
Fallacy #4:  Romance novels are full of graphic sex scenes.
My Response: I've written on this topic previously. Some of my books have love scenes and some don't. When love scenes are included, they're not gratuitous, they're there for a reason. They're a necessary part of the plot. They're also sweet, tender and satisfying. Sometimes, they're even humorous. And just like real life, lovemaking is rife with consequences.
Fallacy #5:  Romance novels are filled with overly dramatic, shirtless bodybuilders and low-bodiced, big-busted heroines who I can't relate to.
My Response:  My books are set in modern times and my characters are as real as you are. Some are good-looking, others not. They have flaws and frustrations and quirks just like all of us do. That's what makes them so lovable and most importantly, believable.
So let me recommend this trusted cure for allergies. Expose yourself to just a little bit, then, gradually a little more, until your discomfort disappears. I'd be delighted if you'd try just one of my Wildflowers of Scotland novels, and Golden Rod is a great place to start. If you like it, you can read more.  Hopefully, you will find that you enjoy my romantic suspense novels.
What have you got to lose? Enjoy the goldtones of late summer, and don't be afraid to read a new book or a new author.
You'll find beauty in all kind of unexpected locations.
Some asked me a few days ago whatever made me want to write books set in Scotland.
Night and Day, my first book, is set in Minnesota and Denmark. (It's midnight in Minnesota and Daybreak in Denmark…)
My next three books, Stormy Weather, Water Lily and Merry Go Round, the Maple Valley trilogy, were set in Iowa, my adopted state, and Minnesota, my home state. The backdrops for these stories required no research, since I grew up here and have lived here most of my life. Love Notes is set in Embarrass and Ely, Minnesota, where Mark's aunt and uncle own a cabin on a lake that we often visited.
And then, I took a long,very out-of-the way detour to Loch Awe, Argyle (Thistle Down and Wild Rose), Tobermory, Isle of Mull (Blue Belle), and Eilean Donan Castle, near Skye (Shy Violet) all in Scotland.
So, why the fascination with Scotland? Why do I write books set in Scotland, and more important, why should you read a book set in Scotland? If you've been across the pond to visit Bonnie Scotland, I probably don't need to say another word. You understand. Or, perhaps I should just say Sean Connery or "Jamie Fraser" and leave it at that. For those of you who still need convincing, I'll do my best.
The History:  A sunken Spanish galleon, fully loaded with gold, castles – ravaged and rebuilt, crumbling and re-crafted, standing stones and shifting borders, Roman ruins and Viking invaders, Celtic legends, kilts and clans. No offense to the dear Iowans I live amongst, but these things are a wee bit more intriguing to me than cornfields and cattle. Scotland's multi-faceted history lays the groundwork for tantalizing plot lines.
The People:  The thing about people is that they're very likely the same no matter where they live. Sure, people have their quirks, and those quirks may be different depending on the place you live, but there are basics of the human condition that are consistent no matter where you go in the world. Read Wild Rose and tell me that church ladies aren't church ladies no matter where you go. That said, Scots are much like the Minnesotans I grew up with – hardy and able to thrive despite harsh climates, caring, generous and giving, friendly, thrifty and a bit stubborn at times. Maybe it's our common Nordic and Celtic ancestry?
The Scenery:  Mountains, seashores with white, sandy beaches, lighthouses, age-old castles, half-timbered buildings, ancient ruins, formal and quaint cottage gardens, birds, wildlife and wildflowers, ancient villages, grazing sheep, green pastures, lochs, heather in the highlands, rainbow-colored waterfronts reflected in the harbors… I could go on… You may not have been to Scotland, may never be able to go, but trust me – it's a beautiful corner of the world and you'll enjoy seeing it through my eyes or the eyes of another writer of Scottish novels. Have a wee nip and come along for the ride.
Why Not? Who knows exactly what prompts a writer to write a particular character, storyline or setting? When it happens, you don't argue. You bask in the sweet passion of inspiration, thank your muse for what he or she has laid on your heart to write about, and go with it.
I could go on about the food, the delightful Scottish accent, pubs, teahouses, the cute names Scots have for everything, and all the other reasons I love Scotland, but I think you get the picture. The fact is, I love going on a little mini-vacation in my mind each and every time I return to the Isle of Mull, Argyle, or Skye for another Wildflowers of Scotland novel.
Part of my fascination with Scotland is probably a form of escape. I know about the problems, deficiencies, and irksome idiosyncrasies of my own country, state, town, and backyard. It's much easier to paint an idyllic scene of my own imagination with only the problems I want included in my plot than to face the boring, mundane conditions of my own world. I can ignore pesky things that might drag me down and let my imagination run wild. It's easier to do that when I'm writing about Scotland.
Once, when I showed someone I'd met in Scotland a photo of the B&B I own in northern Iowa, they said, "It looks like something straight from the pages of a fairytale, like a place I've always dreamed of." Well, for me, Scotland is the place I've always dreamed of – the land of my fathers, the place where I can run to and embrace with my imagination. Reach out your arms and think Celtic love knots, fairy glens and stone cottages with thatched roofs. Start with Thistle Down, and then read Wild Rose, Blue Belle, and Shy Violet. Common wildflowers in an uncommon land. I hope you'll join me!
From Author Sheila Deeth, on the Wildflowers of Scotland novels:  A cool blend of mystery, humor, suspense and romance, and wholly believable, delightfully flawed characters is genuinely enticing in this wild romp through the Scottish countryside with Sherrie Hansen.  Evocative, sensitive, sensible and sweet, these are tales with plenty of action and adventure, making a truly lovely read.
Last week, as I sat and listened to a bestselling author speak about writing murder mysteries, someone in the audience asked, "Why do you write about murder?" The author explained that she wrote what she knew – she had worked as a journalist investigating murders for years before writing novels. A good answer, I thought. But the person in the audience persisted, and once more asked, "But of all the things in the world you could write about, why would you want to focus on murders?" To which the author answered, "So, what should I write about? Cute, little flowers?" While she went on to explain that she had tried to write a romance once, and within three chapters, someone ended up dead, I sat there feeling embarrassed because my last three books are indeed about cute little flowers.
I got the idea to write my Wildflowers of Scotland novels when we were in Scotland. We flew into Glasgow, and as we headed north towards Luss and Loch Lomond, there were still a few bluebells here and there. The rhododendrons were in full bloom and, as we worked our way from north to south, we saw heather in the highlands, roses in hundreds of hues, purple thistles, yellow gorsk, and a profusion of other wildflowers. When I got home and started writing, Thistle Down was born, then Wild Rose, and Blue Belle. I'm currently working on Shy Violet and, if I decide to keep going, Sweet William will be next.
But the question still is – and it is a very valid question – "Out of all the things in the world I could write about / focus on, why cute little flowers?" It's been clear from the beginning that if I wrote grisly, gory murder stories, I would sell more books. It's what people seem to want to read. Townspeople who are generally unimpressed with my books were clamoring to buy hers. Friends of mine who are absolutely wonderful writers concoct excellent murder mysteries / crime / detective novels. So – why can't I bow to public demand, get with the program, and write chilling thrillers?
Here's my answer:
1. A friend of mine once said that he never wanted to be accused of being normal. Call it stubborn, call it being creative, unique, or just plain different, but I've always been one to do my own thing. I generally don't care about popular fashion trends, or that no one else I know wears hats, or what other restaurants have on their menus (I own a B&B and Tea House). I've always followed my instincts, be they right or wrong, and at 57, I'm guessing there's no changing me now.
2. I also write what I know – and love, and care about. Maybe it's because I come from a long line of worrywarts, or as we call it today, people who suffer from anxiety, but I try very hard to think about good things. Like many writers, my method is to start with a premise and then ask the question, "What if?" until my mind starts to swirl and a story comes to life. The thing is, I'm always thinking "What if?". Even when I'm not working on a story, I'm prone to thinking about and imagining the worst thing that could happen. If I listened to those voices – dwelled on them – thought about them long enough to write a whole book based on the worst possible scenarios I imagine – well, lets' just say I have no desire to go there.
3. I memorized this verse when I was a kid, and it evidently stuck. "Philippians 4:8 –  Finally, brothers and sisters, whatever is true, whatever is noble, whatever is right, whatever is pure, whatever is lovely, whatever is admirable—if anything is excellent or praiseworthy—think about such things." I in no way wish to imply that people who write about evil people or events are disobeying the Bible. I'm just saying that if I didn't at least try to do as this verse says, my thoughts and fears would no doubt consume me.
4. I have an artist's eye. Follow me on Facebook and look at my photos if you don't believe me. I know the world is filled with horrific images and all kinds of hate and evil and gore. But when I look at the world, I honestly see cute little flowers and beautiful sunsets and rainbows after storms. I also see symbolism behind every falling leaf in autumn and every snowflake in winter and everything – everything – around me.
Of course, my books are about a lot more than cute, little flowers. In Wild Rose and Blue Belle, there are kidnappings, murders, and blackmail. In Shy Violet, there are pirates and whiskey smugglers, lying, abusive boyfriends and all kinds of bad things. But there are also wildflowers. Tiny, unique, beautiful little flowers.