You are currently browsing the category archive for the 'Scotland' category.
So, having seen that I've just written a new book titled Ragged Robin, you might be wondering, what is a Ragged Robin?
Depending on where you look, you might find your search for Ragged Robin to include a tiny seaside gift shop, a flute and harp duo that plays Irish traditional music, a nutty, time-traveling cartoon character from the Invisibles, a carnival glass pattern, a quaint café in Australia, a niche jewelry shop, a British landscaping, floral or wreath-making shop, a unique line of designer clothing, an Etsy shoppe filled wth handmade, heartfilled products for your nest, a book of poetry, or one of Cicely M. Barker's's fairy flower illustrations.
But because you know me and my penchant for writing books about windflowers, in this case, you would look to marshy places, damp meadows, marshes, fens and wet woods–in Scotland.
In wet marshy meadows
A tattered piper strays—
Ragged, ragged Robin;
On thin reeds he plays.
He asks for no payment;
He plays, for delight,
A tune for the fairies
To dance to, at night.
They nod and they whisper,
And say, looking wise,
"A princeling is Robin,
For all his disguise!"
Poem by Cicely M. Barker
(Except my Robin would be playing a tune for the Selkies to dance to on midsummer's night. Now you might be wondering, what is a Selkie? But that's a tale for another day.)
Now, back to Ragged Robin, the wildflower… With much-divided petals of lavender-pink, this robust, disheveled beauty of a wildflower might be a bit ragged around the edges, but its delicately-fringed, ragged blossoms are perfect to withstand windy weather. Known for its deeply cleft, feathery petals, ragged robin flowers from late May to early August, and is one of the prettiest to be found in boggy ground, transforming the flat brown bog in early summer.
Much-loved by bees and butterflies, it is dedicated to St. Barnabas because hay-making took place around his Feast Day on June 11 and Ragged Robin could be found amongst the hay. In Shakespeare's time it was known as Crowflower and is one of the flowers in Ophelia's garland. In the Victorian language of flowers, it symbolizes ardour, aversion, and wit.
In an ironic twist given the seaside setting of my book, Ragged Robin, the plant contains saponins, a soap substitute that can be used for washing clothes, hair etc. Although generally not harmful to humans, saponins are much more toxic to some creatures, such as fish, and pose a potential danger to aquatic life. (Just one small example of how my Robin was misunderstood by his family…) Hunting tribes in days of old were even known to put large quantities of the flowers in streams, lakes etc in order to stupefy or kill fish. (Sounds like shades of Die Droge to me… And now, you might be wondering what is Die Droge? To find out, you will have to read Ragged Robin.)
Another feature of the wildflower, be it good or bad, is that Ragged Robin can be very hard to keep down. If you want to rid an area of ragged robin for good, it will require patience and determination and will require removing all traces of the plant matter, since any plant matter missed will result in new growth. Missed plant matter can sprout months after you thought you removed the ragged robin. (Springs back from adversity– just one trait my readers will love about Ragged Robin.)
So, if you like a man known for his ardour, and his aversion to evil, lies and injustice, with a good dose of wit about him, you'll love Ragged Robin. Available now in paperback, Kindle, or Kindle Unlimited versions from Amazon. Just click on Ragged Robin. I'll have copies at the Blue Belle Inn the first week of June.
RAGGED ROBIN…When a deadly virus ravages the seafood population off the coast of Scotland, the townsfolk of Portree, Isle of Skye, are devastated. Charter boat captain Robin Murphy and café owner Becca Ronan stumble upon evidence that ties the contamination to a pharmaceutical company, thrusting them into a tangled net of mystery. Robin fears—Becca hopes—the Selkies, if they're real, hold the key. Robin says his priority is finding a cure, but the seal folk he's befriended on his getaway isle have stolen his heart. Becca's long-lost father and free-spirited mother may save the day…or bring down the ship. As Robin and Becca search for the truth and struggle to keep their businesses afloat, everything is at risk–their love, their beliefs–even their lives.
Although a very minor disappointment in the total scheme of things lost because of the pandemic, it looks like our trip to Scotland, described in an earlier post –  is most likely not going to happen.
We receieved a note from one of our hosts this morning saying that they were cancelling all reservations. We've also confirmed that the Blair Atholl Castle's Highland Games and Bagpipe and Atholl Highlanders Review scheduled for the end of May has been cancelled. So has the Taste of Granpian Food Show we were going to attend in Aberdeenshire in June. Oh – the Peat Inn in Fife, and the Kilted Fudge Company are closed until further notice.
I don't know how to alter photos to include a big red X drawn across them, but we can scratch out the following:
Hope springs eternal, and I know we were all wishing that this situation would resolve itself quickly. But the experts seem to think we will be dealing with COVID-19 for a long time. On my best days, I manage to take things in stride – I am very blessed, and I trust in a God who is able to work all things together for good. I've been sticking to my diet, sleeping fairly well, and staying busy preparing take out food at my tea house instead of stressing out and eating everything in sight (my usual way of dealing with stress.)
I am blessed with a wonderful husband to be quarrantined with, a mortgage that's paid off, a family that's nearby, and some wonderfully faithful customers, so it's all good. But I am afraid of what will happen if Mark or I gets the virus because of our reduced immune systems.
I usually survive the long, dreary winter and times of stress by dreaming about our next great adventure. Our trips to Europe sustain me and motivate me and inspire me mentally, physically, and emotionally. It's hard to find things to look forward to when we can't see our friends or get together with our families or attend fun events or even regroup and recenter at a worship service at church.
And isn't it funny that I've been dreaming for weeks of having the time to get back to my painting, and now that I have extra time, I just can't seem to get into it?
I started to outline a new book, which I can set anywhere in the world, based on my memories and imagination. Right now, I'm thinking Portree, on the Isle of Skye. When Plum Tart Iris comes back from my proofreaders, I'll have editing and polishing to do.  Spring is coming, and soon, there will be flowers to photograph and walks to take.
Everything will be fine, right? And if this virus changes my life in a more significant way than the current minor disapointments we've all experienced, I will adapt. At least, I hope so.
In the meantime, let's all pray. Really pray. Keep looking up. Stay home. Be part of the solution, not part of the problem. Pray. Keep praying.
Take care and stay healthy!
Love, Sherrie
The tickets are bought, the Airbnbs have been booked. We're going back to Scotland for three weeks in May and June!
At least one person has already made the comment, "Again?", so I'll explain our reasoning. The answer is, while we loved exploring a new country and seeing new sights when we went to the Czech Republic last summer, we found it exhausting and much more strenuous to vacation on completely unfamiliar turf while dealing with a foreign language in a place where it was rare to find someone who spoke English.
Our Czechia trip took far more research and planning than usual, and we struggled to get oriented and figure out the lay of the land. It wasn't unpleasant – we saw some absolutely amazing sights, and I love the story that came out of the experience (PLUM TART IRIS, coming summer of 2020), but it wasn't as relaxing or fun as going "home" to Scotland. (This will be our 4th trip and our 10th, 11th, and 12th weeks in country.)  Maybe one day, we'll still morph into one of those couples who goes to the same cabin (stone cottage?) on the same lake (or should I say loch?) in the same state (country?) every single summer. Stranger things have happened!
In our defense, Scotland has so many things to see, and such variety! From highland castles to seaside villages, remote islands to bustling towns and quaint country hideaways, each and every place we've visited has been full of charm. The things to do and see are basically limitless. Each time we go, we make sure to include a new island or region in our itinerary as well as some old favorites that bear repeating.
Both of us had enough frequent flier miles to get a "free" overseas ticket, so long story short, we have a lot of connections and we're flying into Edinburgh instead of Glasgow. But our only expenses were taxes and airport fees, so we can't complain. We leave on May 18th.
For the first three nights, we're staying in a stone cottage on a small farm with a stream running through the garden near Humbie, southeast of Edinburgh.  From there, we can explore previously unseen gardens, beaches, manor houses and abbeys in the Borderlands.
We'll spend our next 3 days in the same renovated barn we stayed in two years ago when we were in Aberfeldy, one of our favorite places in all the world.
I've already made reservations for a return visit to the famed Peat Inn, near St. Andrews, where we'll enjoy lunch to break up our drive to the highlands.
While in Aberfeldy, we'll see the Atholl Highlanders and bagpipers marching in review and the Highland Games at Blair Atholl Castle for the third time. Love it!
Then, it's back to Dornie, home of Eilean Donan Castle (where SHY VIOLET and SWEET WILLIAM are set), for two nights. Loch Carron (where GOLDEN ROD is set) is an easy side trip from Dornie.
Need I say more?
Dinner at the Lochcarron Bistro, and a visit to Balnacra Pottery at the Smithy and Carron Pottery, Craft Shop & Gallery are on the list as well – maybe even Lochcarron Weavers – all great enticements.
We'll be spending one night in Portree, on the Isle of Skye before heading out on the ferry to a part of the Outer Hebrides Islands that we've never seen before – North and South Uist.
I've been following a photographer on Instagram who posts photos of the sunsets on the Uists and I can't wait to experience the magic. This photo of Loch Bee was taken from the bedroom window of Na h-Eileanan an Iar Bungalow where we'll be staying for 4 nights.
From South Uist, we'll be taking a rather complicated jaunt on a couple of ferries to get to Tobermory, Isle of Mull (where BLUE BELLE is set.) Hopefully the seas will be calm that day!
I've already made sure that Cafe Fish, where we ate 13 years ago on the harbor, is still open. They are, and my only problem now is what to order – the Haddock Mornay rolled haddock fillet stuffed with baby spinach and herbed mushrooms, and topped with a Mull cheddar sauce or the Café Fish Pie salmon, smoked haddock, fresh haddock and queenies in a creamy sauce topped with crushed potato  and cheese. I had the fish pie last time and loved it, but I had Haddock Mornay in 2016 on the Isle of Arran and it was wonderful, too. My usual solution to this dilemma is to see if my nice husband will order one while I order the other, but every so often, he won't cooperate… we'll see… Maybe if he gets to play golf one day while we're on Mull?
Our third night on the Isle of Mull, we'll be staying on the other side of the island, the Ross of Mull in Fionnphort, where we'll be catching the foot ferry to the Isle of Iona, one of the oldest Christian religious centers in Western Europe. We hope to visit Duart and Torosay Castles on out way back to catch another ferry to the mainland. With that last jaunt to Oban, our island-hopping will be complete and it's off to the Highlands again.
We'll be spending one night at Keltneyburn to break up our drive. It's near Fortingall, a picturesque little town we've been to before.
Our farm stay reservation in Aberdeenshire will be our home for the next two nights so we can attend the Taste of Grampian, a food and drink show near Inverurie with over 200 exhibitors – including our favorite food vendor, Kilted Fudge. Their Clootie Dumpling Fudge is the best!  I'm sure I'll be able to enjoy some Haggis, tatties (potatoes) and neeps (turnips) as well.
Aberdeenshire is castle country, and we hope to see one or two that we missed last time we were there. I love castle gardens and hope to enjoy a bit of color. The bluebells, wisteria, and rhododendrons should still be in bloom in the highlands and the roses just beginning to bloom.
We'll be circling back to Crail, another favorite spot, for our second to last night in Scotland. This is the sea view from the garden where we're staying. Crail is along the east coast, a traditional Neuk village just a wee bit from Edinburgh. I'm glad we'll be able to stay by the sea once more before we head home – and of course, I'll need to visit Crail Pottery again.
On June 9th, we'll fly home to Iowa. I've been asked if this trip to Scotland means there will be another Wildflowers of Scotland novel. As of now, I have no ideas, but then, the whole point of traveling is to expand your mind and find inspiration in the things you see, experience, and learn. So, we'll see!
We appreciate your prayers for a safe and relaxing journey.
(Please note that while most of these photos were taken by me, there are a few (3) that I did not take because they are of places I have not yet visited.)
No this isn't an advertisement for essential oils – but when I received an email from Young Living about Goldenrod, I couldn't help but make some comparisons with my book Golden Rod. Their article opened with, "A bag of gold bullion or a bottle of Goldenrod? You'd think the decision would be an easy one, but fans of the oil would disagree…"  Words like, "
priceless, hands-down one of our most popular oils, worth the wait, loved by men and women alike for its grassy, bittersweet aroma and long list of benefits, from elevating your skin care routine to amping up a romantic vibe," made me think of my Golden Rod.
From a 5 star review of Golden Rod on Amazon: 
As a fan of Outlander and, well, men in kilts in general, I was eager to crack the virtual spine of this Scotland based contemporary romance. Our heroine, Katelyn O'Neal, has found herself by way of inheritance, the proud owner of a real life Scottish castle. Perfect, since she needs a ton of money and fast, in order to pay for an experimental cancer treatment that will save her twelve-year-old niece's life. All she has to do is fly to Scotland, make a few arrangements, and be on her way. Not even the charms of Golden-Haired, Most Fair, Prince Rod of Lachlan, or Rod MacKenzie as he's known in social circles, will sway her from her goals.
However, a pair of ghosts are hanging around, having been cursed to haunt the halls of Lachlan until a first born MacKenzie male inherits the castle. After 500 years, they're tired of waiting, and with the sale of the castle pending, they must use drastic measures to see that their curse be broken.
This story was full of well-developed characters and spectral shenanigans that had me cheering and boo-hissing at all the appropriate moments. One of those rare books that kept me up way past my bed time. I'm looking forward to reading more from this author.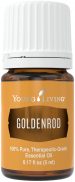 What is Goldenrod essential oil used for? Excerpts from the following list from YL draws more parallels  between their Goldenrod and my Golden Rod to mind:
1. Brighten your outlook. Add some positivity to your day with the scent of Goldenrod to sweeten extra-special moments.
2. Deepen your massage. Soak in the relaxing scent and reconnect with your partner by giving each other a massage for a romantic night in.
3. Make bedtime the best time. Enjoy its earthy aroma as you drift off to dreamland.
4. Go for the bold. Use Goldenrod to create a pleasant, masculine scent for men for a calming personal fragrance.
5. Make a great first impression. Nervous about meeting someone new? Let the relaxing aroma help calm those first-date jitters. 
6. Drench your skin in hydration. Add a drop to your moisturizer for smoother, irresistibly touchable skin.
7. Cuddle up with your true love. Create a cozy night in with the unifying blend of Goldenrod. Planning a romantic getaway? Combine your natural charm with Goldenrod for a truly memorable weekend.
If I haven't convinced you yet, here's another review of Golden Rod:
Wonderful! I thoroughly enjoyed this novel by Sherrie Hansen. I found it to be a sweet comical romance. What started out as an untimely and unwanted involvement between strangers blossomed into an unforgettable journey and romance… I loved the way that Scottish lore and legend was crafted into this modern day romance. I loved the way that the history of the Scots and the culture from Scotland was crafted into this story.
Hansen did a fantastic job making the words fly off the page. The world she created came to life and felt real, as if I was really there with the characters, seeing, feeling, and wanting everything they did. Bravo!
I think this reviewer captured the essence of Golden Rod, too:
A Legend Relived through Modern Day Romance:  A wonderful retelling of a Scottish legend through romance. The storytelling is beautiful and describes the beauty of Scotland in a way that will make you contemplate checking tickets for visiting the enchanting country. Through the story of Katelyn and Rod the author shows the fears and struggles we face daily. Katelyn as a character shows our aspect in the modern world, detached, cold and self centered at times. Preoccupied with her own problems she is not aware of anything around her or how her actions affect others. On the other hand through Rod we see the honorable, compassionate side of us. His love for Scotland is something that brings the realistic aspect in the story. His pride in his heritage and the land he calls home is something we can easily understand and with every right. His personality and love melt the walls Katelyn has built around her heart. I was truly impressed with the story and I'm looking forward to reading the rest of the books from this author.
And one more of my favorites – a review from the UK:
Heavenly Tale – This was such an enjoyable book to read as my fascination and love of Scotland is parallel to the authors. I am intrigued by castles and the folklore concerning ghosts, and this story had everything – passion, romance, and history – entwined with the beauty of the atmospheric lochs and mountains. The ghosts were particularly likeable – in every sense possible; be prepared for a little flutter. Brilliantly paced, expertly written.
With that, I'll leave you to draw your own conclusions – is Golden Rod right for you? If you haven't already read it, I hope you'll give it a try and see if you enjoy the essence of Golden Rod. If you have, I'd love to hear your thoughts!
Spring has finally started to poke its head out of the long-frozen ground. Maybe that's why I'm in the mood to tie up winter's loose ends and move on to new adventures. By this time most years, we're deep into planning our summer vacation, with reservations made and dreamy visions of B&Bs and castles and seaside villages floating through our minds as we await May, when we usually depart for our destination.
We've always found February snowstorms to be a good time to plan our travels, but this year's schedule is a bit off because my husband just returned from a tour of the Holy Land.  We both went to Arizona for a conference in January, and now that Mark has had a second "working vacation" already this year (Mark is a pastor, so Israel was a great way to continue learning more about the Scriptures and walk in Jesus' steps), we decided to wait to take our next outing until late August and early September.  And because his trip to Israel earned him enough frequent flier miles for a free ticket to Europe, we delayed buying our tickets until he returned.
So here I am, starting to think about Prague and the Czech Republic, the Bohemian Paradise, Alfons Mucha's paintings of Slavic maidens, spa resorts and quaint countryside villages, and folklore and grape harvest festivals,  and I just realized I never did a final post about last year's trip to Scotland.
The bit I left out was Kilmartin, on the far west side of Scotland, and it's simply too significant a place to ignore. Of all the places we visited, it was the most restful and remote, far off the typical tourist trail. Our B&B was private and plush, a very respite for our travel weary souls, and walkabout backs, hips and feet…
After nearly three weeks on the road, and the trauma of our car hire incident, we truly felt pampered in Kilmartin Glen.
Crinan Bay was just a few miles away from where we stayed, and we delighted in watching the sunset over the sea.
It will be different visiting a landlocked country on the mainland of Europe this year. I truly love Scotland's little harbor towns.
The ancient history and evidence of civilizations past surrounding Kilmartin Glen was fascinating.
Standing stones and burial chambers and Celtic graves and prehistoric rocks carved with Pictish runes… the glen was full of preserved sites to explore.
Footprints of ancient kings and beautiful views of hills and valleys all made for amazing explorations.
But the thing I liked most was the peaceful aura surrounding the glen.
We were sad to leave, yet eager to get home.
A few quick stops at a new-to-us historical village, a beloved garden we discovered two years earlier, and one of our favorite castles, and we were once again following the shores of Loch Lomond back to Glasgow, ready to go home.
To Bonnie Scotland! To tying up loose ends! To new beginnings! So, until next time, you know where to find me, and where my heart remains.
Twenty-eight years ago, Sherrie Hansen rescued a dilapidated Victorian house in northern Iowa from the bulldozer's grips and turned it into a bed and breakfast and tea house, the Blue Belle Inn. Sherrie grew up on a farm in southern Minnesota and has lived in Bar Harbor, Maine, Colorado Springs, CO, and Augsburg, Germany. She attended Wheaton College, Wheaton, IL. After 12 years of writing romance novels late at night when she couldn't sleep, she met and married her real-life hero, Mark Decker, a pastor. Sherrie lives in 2 different houses, 85 miles apart, and writes on the run whenever she has a spare minute. With her Wildflowers of Scotland novels, "Wild Rose", "Blue Belle", "Shy Violet", "Sweet William" and "Golden Rod", and her new release, DAYBREAK, the sequel to NIGHT & DAY, she has eleven books in print, most featuring a "second-chance-at-love" story. Sherrie enjoys painting, playing the piano with the worship team at church, photography, decorating historic homes, and traveling. You can learn more about her books by visiting  http://amazon.com/author/sherriehansen
According to Ancestry dot com, my DNA is a mishmash of curious combinations. While the main classifications that they identified held no great surprises, after seeing my DNA pie chart, I'm left with unexplainable images of a debonair Italian troubadour sailing to Scandinavia to open a pizzeria and wedding a sweet Danish girl from a seaside village, or a Middle eastern orphan who was conscripted to be the cook on a Viking vessel and ended up married to a Dane. My imagination and my travels have taken me many places in the world, and so, evidently, it was with my ancestors.
If you've read my novels Night and Day or Daybreak, you already know that I have a love for and a strong connection to Denmark. My mom is half Danish and so was my Dad. That makes me half Danish – but who knows what snippets of DNA filtered into the Danish Viking gene pool over the centuries.
I grew up believing the other half of me was 25% English / Scots / Pennsylvania Dutch (which I thought meant Dutch}, and 25% Bohemian. A few years ago, after living in Germany for 3 years in the late 70's and not having a clue that I had any German blood, I found out that my Bohemian quarter was actually half Bohemian and half German. When I was in grade school and researching family trees, my Great-Grandpa Miller was already dead and buried. My great-grandma's Bohemian pride had carried on while the German part of our heritage had gone to the grave with him. I started asking questions when I realized that Miller was NOT a Bohemian surname, and my dad filled me in on the rest of the story. Finding out that we were part German certainly explained why I felt so at home in Deutschland – and my family's love of the Jaegerschnitzel and homemade Spaetzle recipes I brought home from Germany!
My love for and the connection I feel to Scotland is a little harder to explain. But then, I think I have not only explained it, but given many illustrations of it in Wild Rose, Blue Belle, Shy Violet, Sweet William, and Golden Rod. I feel at home in Scotland. The scenery and the lifestyle and the people call out to me. Yes, I supposedly had a great-great or great-great-great grandmother who was Scottish. My ancestors hailed from a little village in Lincolnshire called Scoton, which means Scott town. But my passion for Scotland is born of my heart somewhere deep in my soul, and is really quite unexplainable.
My husband and I are currently in Arizona for a Spiritual Life Conference and later tonight, we're going to attend a Burns Dinner with bagpipers, Scottish dancers, haggis and meat pies, addresses to honor the great poet, Robert Burns, and of course, some wee sips of whiskey. I can't wait to meet others who love Scotland and relive various facets of the culture we fell in love with in the 9 weeks we've spent in the country – so far.
Tomorrow, we're heading to northern Arizona to visit the Painted Desert, the Petrified Forest and an Indian reservation – another culture that's been precious to me ever since I read about Sacajawea in the 3rd grade. Yes, I'm a bit eclectic.
This fall, we're planning a trip to Prague and several villages in the Czech Republic to explore my Bohemian roots. A few years ago, we spent 2 weeks in Romania, where we followed up on leads regarding my husband's ancestors. I've been to Denmark three times, England several times, and returned to Germany with a new appreciation for my heritage. The ties are there, the pull is strong. I can truly imagine living in any of those areas. Somehow, I've bonded with the people and places – in part, because of my heritage, and in part, because I listen and pay attention when places and things call out to me.
There's one other component of my DNA that is an integral part of my personal DNA, and that's that I'm part of the family of God, adopted by grace, through faith in Jesus. Those roots go deep as well, impacting everything I think, do, and write.
So take me as you find me, for who I am and who I will become as I deconstruct and explore the various niches and facets and colorful strands of my DNA. It's reflected in my books – in my whole life. If you haven't already, I hope one day you'll join me in the journey.
The next leg of our Scottish journey felt like coming home. We make it a point to see new places and things each time we come to Scotland, but we also plan return visits to places we didn't get enough of the first time around.  
Coming back to the Isle of Skye on the ferry from Harris felt like meeting up with an old, familiar friend for a quick catch up. We saw a phenomenal sunset while we headed back to our B&B, a newly built addition with a comfortable bed, an amazing, spa-like bathroom and a beautiful view of Loch Dunvegan. Only two things marred our visit – more midges and a sad state of affairs at a much-renowned Stein pub where we'd had wonderful meals twice before. We were truly shocked when our waitress ignored us for over an hour before taking our order, not even bringing us water or a menu, while the Scots at the table next to ours ordered, ate, paid and went their merry ways. I won't go into the details, but it was the first time we'd been treated rudely, probably because we were Americans, on any of our journeys. When our dinners finally arrived, my meat was tough and undercooked. I would have left without paying, but my nice husband took care of the bill and we departed completely mystified at the treatment we'd received.
The rest of our time on Skye was delightful. We enjoyed our room, and the nice breakfast treats left in the refrigerator, and went to sleep dreaming of the opportunity to see some of our favorite spots from two years ago. After taking in the scenery on the loop from Dunvegan to Sligachan Valley, we followed the highway toward Armadale Castle and Gardens, on the east side of Skye, which we had not seen our first trip.
The gardens were lovely and the ruins of the castle were serene and full of interesting historical images. Our hike through the forest was as brief as we could manage as the dreaded midges were once again out in full force. Thankfully, after we left the castle, we found a locally manufactured concoction made with natural ingredients and essential oils that did seem to deter them, as well as soothing the bites I already had.
We stopped at Dorney and Eilean Donan Castle on our way to Loch Carron. Eilean Donan, the only place besides the Glasgow airport that we've seen on all three visits to Scotland, is the setting of Shy Violet, and plays a role in Sweet William. I truly do feel a connection to this castle. I took a copy of Sweet William along to give to one of the servers at the Castle café just like I did Shy Violet two years ago, and to my delight, they remembered me! The woman we gifted the book to even had a connection to the house on the front cover. Like so many aspects of our trip, the whole thing felt meant to be.
I had the same pleasant sense of déjà vu in Loch Carron. The idea for Golden Rod was born while I was there two years ago, and it was great fun to leave copies with the owner of the B&B where we stayed and the owner of the Waterside Café, which is mentioned in the book.  We revisited Lochcarron Weavers (and left with more wool remnants), stopped at my favorite craft shop (which had almost burned down in a forest fire the week before).
I bought a wee Scottish fairy, and saw the incredibly scenic overlooks we discovered last time. But from there on, everything we saw and did was entirely new. We had two incredible meals, one at Lochcarron Bistro that included some of the best food I've ever eaten.
 The next day, we set off for Applecross, a charming seaside village at the end of one of the steepest, scariest mountain roads I've ever been on. Mark navigated the narrow, winding road quite well, and our little Honda put forth a valiant effort while I tried to snap photos whenever I could. One didn't dare stop to shoot a photo midway up the incline for fear you'd never get going again. It was that steep.
Once we rounded a series of extremely sharp hairpin curves, we walked around the summit and stretched our tense legs. From there, it was downhill to Applecross, a very secluded town on the water, where we discovered a delightful garden that was being restored to its former glory.
It was totally unanticipated, and one of my favorite stops of the entire trip.
Coming down the mountain via the coastal road was a different kind of adventure, with wandering, remote single track roads lined with wildflowers, boothies, sheep and hairy coo, punctuated by the occasional fishing village. The one thing we never saw was a gas station, and we breathed a sigh of relief when we glided into Lochcarron on petrol fumes and miraculously found a gas station that was still open.    
The weather that day was warm and sunny, and perfect for exploring. We stopped frequently and stumbled upon a few gems on that trip over the mountain. I even discovered the work of a potter whose main shop was back in Strathcarron. I left with several little dishes and hearts made by Vicky Stonebridge at Balnacra Arts & Pottery, all in her signature pastel colors and whimsical designs. If ever I live in Lochcarron, I will visit her studio often.
The next morning, after another wonderful Scottish breakfast, we said goodbye and left for Fort William, a stopover on our way to Kilmartin Glen, our last major destination.
On the way, we finally found the spot where I took the photo that is on the front cover of Sweet William. I say finally because we'd looked and looked and never found it two years ago. The trick was, you had to get out of the car and hike past an old church ruin to get to the spot where you could look down into the valley to see what I fondly call Rabbit Hill Lodge (in my imagination and the world of Lyndsie and Violet in Sweet William.)
From there, it was more mountains and a drive through the Spey River valley to Speybridge. We heard a bagpiper playing at the summit and watched a storm approaching from the west. The storm followed us all the way to Fort William and while it doused our sightseeing efforts, it didn't deter us from poking around downtown and finding a restaurant that had room for two. I had haggis with neeps (mashed turnips) and tatties (mashed potatoes), served with a whiskey peppercorn gravy.
By this stage of the trip, we felt very aware of the fact that our vacation days were drawing to a close. I remember wondering if this would be the last time I got to enjoy haggis. I think it was – and a good note to end on, it was.
Sunday morning, we decided to try a Scottish church once more, and found a lively congregation much like what we're used to at Zion, in Hudson, Iowa, where my husband is the pastor. They had guitars and sang songs we knew, and the pastor was quite relaxed and even witty at times. While the people were very friendly and welcoming at both churches we visited, this one was more relaxed and joyous and felt like home.
It was hard to imagine that we would see anything in our last few days in country that would rival the sights we'd already enjoyed, but Kilmartin Glen did just that. It's called saving the best for last.
Until next time…
(Sherrie is the owner of the Blue Belle Inn B&B and Tea House in St. Ansgar, Iowa. She is a Wheaton College alumni, and attended University of Maryland, European Division, while living in Augsburg, Germany. Her husband is the pastor of Zion Lutheran Church, an LCMC Congregation in rural Hudson, Iowa. In Sherrie's spare time (?) she likes to dabble in the creative arts, play piano, paint, decorate vintage homes, and travel.)
Thank you to Annie at the Editing Pen for inviting me to write a post about Scotland.
As a hostess gift, I'd like to present Annie with a weekend stay at Blair Atholl Castle on the occasion of their annual Highland Games followed by a week at Uig Sands Hotel on the Isles of Lewis and Harris which includes a chance to walk amongst the nearby Callanish Standing Stones. If she carries a bouquet of goldenrod for good luck, perhaps Jamie Fraser will be waiting for her on the other side… Many happy returns, Annie!
As fans of Outlander know, most books set in Scotland revolve around highlanders, kilts, and keeps. My Wildflowers of Scotland novels (Thistle Down, a novella, Wild Rose, Blue Belle, Shy Violet, Sweet William, and Golden Rod) are modern-day mixtures of romance and suspense with the Scottish countryside as a backdrop.
They're also colorful tales, rich in symbolism of wildflowers.
There are plenty of dark, misty vales, cold, stone castles, and drab, colorless cottages scattered through Scotland. What I love most about the wee wildflowers of Scotland is that they provide the perfect bit of contrast, a much needed dash of color to an otherwise harsh landscape. I hope you can see the Scotland I love in the bouquet of wildflowers I've picked for you.
THISTLE DOWN – A common, prickly, purple thistle saved the day when an Englishman doing reconnaissance stepped on a particularly thorny specimen and let out a howl, alerting Scottish guards to an imminent invasion by the English. We can all be a bit oblivious at times, especially when we're up against hard rock on one side and well, hard rock on the other side, too. There's nothing like the sharp bite of a prickly plant to make you appreciate what you have and see the beauty in your own backyard.
Such is the premise for my novella, Thistle Down when tenderhearted Pastor Ian MacCraig tries to keep a pair of prickly sisters from marrying the wrong men. Emily Downey has found the perfect groom. If only she loved the man… Chelsea Downey is wild about her boyfriend. Trouble is, he's two-timing her and everyone sees it but her. Their thorny situation gets even stickier when the church ladies come up with a plan. Can Pastor Ian MacCraig weed out the thistles and get to the heart of the matter in time to save the day?
WILD ROSE – Wild roses symbolize perfect happiness, love at first sight, joy and gladness, and happy, forever love. Like other wildflowers, they're hardy, stubborn and determined to find a foothold whether they be planted atop a stone wall, set amongst ruins, or left to fend for themselves along the side of the motorway. But even the sturdiest of wildflowers can be trampled on when their generous hearts are abused by ones not so honest or caring.
Such was the case when Rose Wilson learned that Digby, the online friend she met for what she thought was a harmless rendezvous, was a common criminal. Enter Pastor Ian MacCraig, who is trying to capture the thief who is stealing artifacts from his kirk (Saint Conan's on Loch Awe, Scotland.) The last thing he expects to find on his video is a woman engaging in a passionate romp under the flying buttresses. Rose is mortified and the church ladies are appalled to learn that Pastor Ian, the board of Wilson Enterprises, the constable, and half the town have had a glimpse of Rose half naked. What remains to be seen is how far Ian will go to defend Rose's honor and if the church ladies will forgive Rose now that they know who she really is… and if Rose can believe she's worthy of someone as good and kind as Ian MacCraig. Are Wild Rose and Pastor Ian MacCraig a match made in heaven or one hell of a predicament?
BLUE BELLE – Bluebells are one of my favorite flowers. The first harbingers of spring, they're known for their humility, kindness and constancy. They're as down-to-earth as my characters, and like any springtime bloomer, all the sweeter because you have to endure a bit of weather each year before they return.
Just as bluebells hide in off-the-beaten path forest glens, Isabelle has traveled to the ends of the earth to try to escape her past. Psychologist Michael is also hiding out, as far removed from his relatives and his practice in Wisconsin as he can get. When Damon starts searching for the centuries-old gold he thinks is buried at Tobermory Bay, it won't matter what walls Michael and Isabelle think they are hiding behind. Rocks will fall. Castles will crumble. No secret will be safe. Set in colorful Tobermory, Scotland, on the Isle of Mull, it becomes very clear in Blue Belle that timing is everything – and that sometimes, you just have to jump.
SHY VIOLET – Eilean Donan Castle, near Dornie, Scotland, is a modest castle – not as big, old, nor fancy as many, Eilean Donan is subtle and understated as castles go. Perhaps that's why it's grown to be so iconic. In Scotland, it's "aboot" the simple, everyday things of life, pleasures born both of need and necessity. That's why, if you keep your eyes open, you're sure to see majesty galore in nature's quiet offerings… a shy violet hiding behind a rock, a blush of heather in the hills, a splash of rhododendrons growing deep in the woods.
Maybe that's why shy Violet has been so long overlooked in her search for true love even though her name signifies that her thoughts are occupied with the fanciful notion. Violet has always put great stock in the virtues of modesty and faithfulness – particularly faithful love. But that ship has sailed right along with the pirate boat Violet jumped aboard, thinking she could hide from a string of bad decisions in her past. Violet didn't even know Nathan existed when she inadvertently met his father and ruined any chance of a future with his son. But part of the violet's essence is to take a chance on happiness. No one knows what will happen when Violet meets a bagpiper whose music spans the centuries in front of a castle with a troubled history. But is Violet fleeing the present only to collide with the past?
SWEET WILLIAM – Sweet William is equated with gallantry, childlike awe, and the sensation of getting lost in a whole new world of wonder and enchantment. William McKnight is a true sweetheart, and as gallant a man as you'll ever see, always ready with a smile. From Lyndsie Morris's tart, hardscrabble childhood, there has gown a spirited flower with character and determination and a true appreciation of the things that really matter in life.
But when Minnesota farm boy, William, and sassy Scot, Lyndsie, are forced to work together in the kitchen of Rabbit Hill Lodge, the atmosphere is as charged as an episode of Chopped. Will someone get cut, or will they find a recipe that works? Things just start to get spicy when an angry bull butts his way into the picture, and Lyndsie has to decide if she loves William more than everyone and everything she holds dear. Set in the Highlands near Eilean Donan Castle, on the Isle of Skye, and in volatile Minnesota, they face the harshest of conditions. Will their love take hold and bloom or will stormy weather crush the romance that's blossoming between them?
GOLDEN ROD – Goldenrod flowers are thought to hold many symbols – from caution to encouragement, luck to good fortune. Superstitious folklore advises people to carry a bouquet of goldenrod flowers when seeking out treasure or venturing forth on new, but risky, ventures.
All of these themes and more are explored in Golden Rod as the reader gets to know Lachlan—a centuries old castle overlooking Loch Carron, Scotland; Kacie—a twelve-year-old girl whose dying wish is to see it; Laird Valan and Lady Rosemary MacKenzie—500-year-old ghosts who desperately want to escape it; Golden-Haired, Most Fair, Prince Rod of Lachlan—the rightful heir who wants to live there happily ever after; and Katelyn O'Neal—the well-intentioned but clueless legal heir who's about to pay a high price for selling Lachlan to a lowlife scum. Golden Rod is a two-week romp through a lifetime of legends and risky ventures, of bad luck and old curses turned to golden wishes. Rod MacKenzie is a gentle gardener and sometimes sailor born of adversity, and so much more lovable than Buck, the arrogant showoff who now owns the castle. How similar to the way of Scottish wildflowers – blooming not in showy profusion, but cropping up here and there in solitary clumps to bloom wherever there is a bit of fertile soil.
If you're a lover of wildflowers – wherever they blossom – and most particularly, Scotland, you'll find the quaint surroundings – and the pirates, pipers and tales of days past that are part of Sherrie Hansen's novels – to be fascinating. I encourage you to clutch a bunch of goldenrod and take a risk – try a new author!
~~~
Twenty-seven years ago, Sherrie rescued a dilapidated Victorian house in northern Iowa from the bulldozer's grips and turned it into a bed and breakfast and tea house, the Blue Belle Inn.  Sherrie grew up on a farm in southern Minnesota and has lived in Wheaton, IL, Bar Harbor, Maine, Lawton, OK, Augsburg, Germany, and Colorado Springs, CO. After 12 years of writing fiction, Sherrie met and married her real-life hero, Mark Decker. Mark and Sherrie divide their time between a cottage in St. Ansgar, and the parsonage where Mark serves as pastor. Their two houses are 85 miles apart, and Sherrie writes on the run whenever she has a spare minute. In her "free time", Sherrie quilts, makes music on the piano, plays with her camera, renovates old houses, travels to the far off corners of the world, and goes on weekly adventures with her nieces and nephew. Her new release, Daybreak, is her twelfth novel to be published by Indigo Sea Press. Sherrie's books have been called "the thinking woman's romance" and her latest books also contain elements of suspense. While many of Sherrie's books contain issues of faith and family, some also include "steamy" scenes, and some, a candid combination of both. Most are "second chance at romance" stories with primary characters aged 30 to 50. Many of Sherrie's books contain at least one special quilt.
Links:
http://www.facebook.com/SherrieHansenAuthor
https://sherriehansen.wordpress.com/
https://www.amazon.com/Sherrie-Hansen/e/B007YXQJ4W
http://www.BlueBelleInn.com
https://twitter.com/SherrieHansen
http://www.goodreads.com/author/show/2870454.Sherrie_Hansen
https://www.pinterest.com/sherriebluebell/
Books Titles: New Release:  Daybreak, sequel to Night & Day, Wildflowers of Scotland novels – Thistle Down (a prequel novella), Wild Rose, Blue Belle, Shy Violet, Sweet William and Golden Rod, Love Notes, and the Maple Valley Trilogy – Stormy Weather, Water Lily, and Merry Go Round.
You might be wondering how we ended up driving a loaded Jaguar e-Pace SUV around Scotland in the first place, given as we are folks of average means and thrifty habits. The short answer is that we were given a free upgrade – in part because we'd been waiting for the smaller car we'd ordered for three hours. We hadn't slept or showered for more than 24 hours. We'd also been forced to buy an expensive insurance policy that cost almost as much as the car rental itself, even though our USAA Credit Card covers accident insurance on our rental cars no matter where in the world we happen to be. Long story short, I think the car hire associate felt sorry for us and decided to throw us a bone.
I have to admit that we got a bit spoiled in the Jaguar. The seats were plush and comfortable, the ride was smooth. It had a back-up mirror that responded to the cars movements to direct you with curved lines. The GPS was very helpful in finding our way around. It was an amazing car.
When we hit a sharp rock along the side of the road on our second day on the Isle of Lewis and ended up with a seriously flat tire in the middle of nowhere, we assumed we could get the tire changed and be on our way. But the impact of hitting the rock, which more or less bounced us against a ridge of razor sharp rocks and back again, was a hugs gash in the rear passenger side tire and a cracked wheel rim on the front passenger side tire.
We were pretty shook up, and not knowing exactly what had happened, prayed our way to the nearest sign of civilization, about three miles down the road. The tire held out until we  turned into the driveway and drove across the cattle guard, when it went completely flat. The place we found ourselves at looked to be a Scottish version of Outward Bound. We were immediately greeted and offered help in changing the tire. Only one problem – there was no spare and the patch kit the car hire company had provided was woefully inadequate. (An associate later told us they remove the spare tires on their luxury cars because they are afraid someone might steal them.)
From there began a long, frustrating day of repeatedly calling the car hire company's help line, waiting, and when no help came and no one called back, calling them again. Repeat. And repeat. With no means of transportation, we had to cancel our lunch reservations at North Harbour Bistro. Thank goodness for the kind and very helpful staff at Scaladale Youth Center – Mark and I obviously aren't in danger of starving to death, but I can't imagine what would have become of us if we'd had to wait for more than 7 hours along the side of the road with no water, shade, or bathroom facilities.
In the end, our car hire company told us we would have to find our own way back to Glasgow (over 200 miles and a three hour ferry ride away), where we MIGHT be given a replacement car. So much for the fancy-schmancy insurance policy with promises of roadside assistance and replacement vehicles they'd forced us to buy. This was not a good time. We were hungry, frustrated and completely lacking in any kind of faith in the car company. 
But possessing a good dose of Midwest ingenuity, we started calling around to local garages and car hire companies and found ourselves a little Peugeot in Stornoway that we could have for 24 hours while we sorted things out. We hitched a ride into town with a staff member at the end of his work day. He regaled us with stories of life on a remote island while we drove hurriedly home so he could change and go out into the peat bogs and cut peat – free fuel for all willing to go to the work of cutting, hauling and stacking the bricks. He was doing this for his mother, who needed enough to make it through two winters, as he and his fiancé were going to be married and take a year long honeymoon. We were so impressed by this man!
The car hire office was already closed by the time we arrived to pick up our "new" car (they'd left the keys under the seat and parked it on the street). The effects of our delicious breakfast had long since faded, so we had some dinner and headed back to our B&B, which was an hour away, in Uig. On our way back toward the place where we got stranded, we saw a tow truck with "our" Jaguar on his bed – almost 10 hours after our incident with the rock.
We'd lost a whole day of our much anticipated time on Lewis and Harris. The next morning was also spent trying to find a rental car that we could use for the remainder of our trip. There were no car hires on the Isle of Skye where we were scheduled to get off the ferry on the next leg of our trip, and our ferry left from Tarbert, on the Isle of Harris, on the opposite end of the island from Stornoway. The biggest obstacle was that the car hire companies on the Isles of Lewis and Harris only rent cars for use on the island.
It seemed like an impossible situation until a young man whose sister lived in Glasgow said that we could take their company's car off the island and get it to his sister at the end of our trip so she would get it back to them. We had to pay an extra fee, but it was worth every penny not to have to cancel our reservations or become foot passengers hobbling along with our luggage, trying to find a bus or train that led to Glasgow. Best of all, our faith in people was restored and then some as we dealt with the kind locals from Lewis and Harris. These folks really went out of their way to help us!
The day started getting better almost immediately. We made it to the wonderful restaurant on Scalpay for lunch and I had the chance to visit the official Harris Tweed outlet store to buy fabric as planned.
Mark scored an empty blue gin bottle from the Isle of Harris Distillery to use as a water bottle at home, just like they had at North Harbour Bistro. Afterwards, we walked off a little of our delectable lunch at Luskentyre Beach.
The white sands and tropical-looking blue waters were amazing, while the Belted Galway cows grazing along the shores kept things quintessentially Scotland. 
After another trip back to Stornoway to switch out our little Peugeot for the even littler Honda Jazz we would use to make our way back to Glasgow, we were off to see the Standing Stones by sunset one last time, and enjoy our comfortable B&B before catching the ferry in the morning.    
And you know what? Our little Honda did just fine! It was definitely not luxurious like the Jaguar, but it was great for navigating the narrow roads to the beach. It sat comfortably, and all of our luggage fit, between the boot and the backseat!
All's well that ends well? We're still fighting with the original car rental company over what we should and should not be required to pay for the short-lived pleasure of driving their Jaguar, but we saw everything we really wanted to on Lewis and Harris, and, we ended up on the right ferry (reservations required) at the right time to the right place. We loved the Isles of Lewis and Harris – the people, first, the Callanish stones second, and my fabric treasures third. And let us not forget Mark's empty gin bottle – a found treasure that we love, mostly because we got it for free.
Because luxuries like Jaguars are nice, but life's simple pleasures are the best.
Stay tuned for more adventure on the Isle of Skye, and in Loch Carron, setting of Golden Rod, the mountains and gardens of Applecross, Fort William, and the ancient sites of Kilmartin Glen.
We planned to stay on the Isles of Lewis and Harris for 4 nights because it coincided with the relaxing mid-point of our recent trip to Scotland. My husband says once I get away from home and business, it takes me a week to relax, and that a week before we head home, I start to get tense again, thinking about what's waiting for me. When we go on a three week vacation, it's the middle week that's golden.
My midgie-bite covered body was looking forward to rest and relaxation on Lewis and Harris. The islands are only 14 miles wide and 100 miles long, so we felt sure four days would not only give us time to see all the sites but to spend some time chilling on Uig Beach, near the Keepers House where we were staying. I couldn't wait to see the mysterious, now famous Callanish Standing Stones seen in Outlander.
The seas were calm on our three hour ferry ride from Ullapool to Stornoway and our expectations were high.
We drove our rental car off the ferry to find a sweet downtown area surrounded by a wandering park topped with a beautiful castle. We settled into a little restaurant with a creative menu (I had chips – big English-style French fries – topped with gourmet mac and cheese topped with the most wonderful, melt-in-your-mouth roast beef ever. Yum!)  A few doors down, we found a shop filled with thousand of yards of wool Harris tweed remnants at reasonable prices. I left with a lovely assortment.
We set off for the castle at the top of the hill, surrounded by lovely old trees, with a great view of the sailboats lining the harbor. The story, or so we were told, is that a man bought the Isles of Lewis and Harris with ill-gained proceeds from smuggling drugs, only to have his wife refuse to move to the Islands because there were no trees.
She reconsidered only after he planted a small forest and built her a castle. And a beautiful castle it was!
We left Stornoway to meander toward out B&B on the other side of the island, thinking, "How long could it take to drive 25 miles?" More than an hour of narrow, windy, twisting, single track roads later, we arrived to a warm welcome from a cute pair of lambs, checked into our spacious room with a view, and set off to explore Uig beach.
The fog was already setting in – or had it ever lifted? – giving the treeless peat fields, hills and dales an atmospheric glow as the sun crested and slowly sank toward the west.
The next morning, after a delicious, made-to-order breakfast at Uig Sands Hotel, we drove north along the Western shore to Callanish Stones, which turned out to be laid out in the shape of a cross.
I took a lot of photos even though the skies were foggy and grey, and later, more photos with a blue, sunny sky, and later still, with the sun setting behind the stones.
We were back in the Jaguar, driving toward the Gearrannan Blackhouse Village, an open-air museum with restored blackhouses – long stone cottages with thatched roofs, and Dun Carloway, the remnant of a stone broch (small tower) that's roughly 2000 years old, when we saw a church with a parking lot full of cars. According to the sign, the service had just started, so we decided to go on in and found ourselves in the midst of a very unique worship service.
Unbeknownst to us, the Free Church of Scotland has no adornments, and no musical instruments. The songs are chanted psalms and the women wear hats. I fit right in, and the people were very welcoming, but I missed the lively music of our church services.
That afternoon, after more than a good bit of hiking up to the tower house (and back down again) and down to the sea behind the blackhouse village (and back up again), we arrived at the very northern tip of the island, or the Butt of Lewis, where we found a beautiful lighthouse and cliffs covered with hundreds of pink flowers and thousands of sea birds.
We finished off the day with a delicious meal at Uig Sands Hotel, where the chef treated us to house-smoked salmon delicacies and more. We chatted with guests from England, Germany and the Netherlands over dinner. It was all very relaxing and enjoyable. I'm glad I didn't know what awaited us the next day!
Our plan was to drive over the bridge from Harris to explore the small island of Scalpay and its red and white striped Eilean Glas lighthouse on the island's eastern cliffs. We had made reservations months earlier for Scalpay's famous North Harbour Bistro, which we were told was THE place for a tasty and memorable meal, followed by a visit to award-winning Luskentyre Beach with its white sands and blue waters.
But as fate would have it, our plans were meant to be broken – as were our poor rental car's tires and wheel rims. I'll post the next installment – The Jaguar of Our Dreams and the Car Hire Company from Our Worst Nightmare – in a few days.
Thanks for coming along on the next jaunt of our journey.